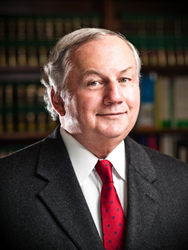 Sacramento, California (PRWEB) March 25, 2014
Edward A. Smith, founder of http://www.AutoAccident.com, has been awarded a 'superb' or 'perfect' rating of 10.0 by Avvo. This stellar rating reflects his unrelenting commitment and personal dedication to his clients since 1982. Mr. Smith's legal practice, the Law Offices of Edward A. Smith, focuses exclusively on personal injury and wrongful death claims.
Avvo, the presenter of the award, is committed to providing consumers with an unbiased rating of attorneys in the United States. This rating is based on variables which include client reviews, success rate, publications produced by the attorney, awards, industry recognition and professional conduct. Avvo's extensive research allows an individual to obtain a rating on 98% of practicing lawyers in the United States. Avvo can also be considered a wealth of information for consumers with legal issues. Whether the issue be simple or complex, consumers will find free legal advice at Avvo.com. An answer is made available within 12 hours of a consumer posting his or her legal issue.
Mr. Smith has been reviewed by twenty-six other lawyers and has written several books in order to make the ins and outs of the insurance and legal world accessible to the public. His books, The Ultimate California Auto Accident Handbook and California Motorcycle Accident Handbook, are highly rated and available in paperback and Kindle format on Amazon.com. He has been a frequent guest on radio and TV in California. Originally a New York native, he relocated to Sacramento following his discharge from the U.S. Air Force after serving in Vietnam in 1970. After graduating from McGeorge School of Law in 1982, he immediately opened his own practice in Sacramento. He is a member of the State Bar of California, Sacramento County Bar Association, Consumer Attorney's of California, Capital City Trial Lawyers Association, American Trial Lawyers Association and the Million Dollar Forum. His law firm has won a wide variety of challenging personal injury cases, which include car accidents, motorcycle accidents, livestock collisions, dangerous roadway conditions, dog attacks and accidents involving watercrafts. The Law Offices of Edward A. Smith is located at 1900 Point West Way, Suite 200, Sacramento, CA 95825. The phone number is (916) 921-6400 or the toll-free number is 800-404-5400.