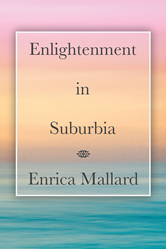 "Enrica has provided a clear distinction between psychological wisdom and insight, valuable as it is, and a genuinely pervasive, spiritual perspective, which heals at a deeper level and grants a gratifying sense of meaning to the reader," said Psychologist Chris Caldwell
MELBOURNE. (PRWEB) March 08, 2019
Who are we? Modern mystic, personal coach, healer, and author, Enrica Mallard, ponders this in her book "Enlightenment in Suburbia." She provides wisdom, guidance, and some personal stories to help readers reach their true, authentic purpose.
Committed to the expansion of consciousness, Mallard wrote "Enlightenment in Suburbia" to demonstrate the success found in being our authentic selves, and how it helps humanity thrive at both micro and macro levels.
"'Enlightenment in Suburbia' reminds you of who you are beyond all the identities you grasp within your life and which you think is you. This book clarifies, inspires, and assists you in your awakening," Mallard said.
"Enrica has provided a clear distinction between psychological wisdom and insight, valuable as it is, and a genuinely pervasive, spiritual perspective, which heals at a deeper level and grants a gratifying sense of meaning to the reader," said Psychologist Chris Caldwell. "This is a powerful, evocative resource."
"Enlightenment in Suburbia" clarifies, inspires, and assists readers in their awakening. Free of alignment to any teaching or religion, it sheds light on what is hindering us from reaching a more enlightened existence.
"Enlightenment in Suburbia"
By Enrica Mallard
ISBN: 9781504313568 (softcover); 9781504313551 (electronic)
Available at the Balboa Press Online Bookstore and Amazon
About the author
Enrica Mallard is a reiki master and a Matrix Energetics Practitioner, and a past Certified BodyTalk Practitioner and Certified Access Consciousness Facilitator. She is starting a nonprofit called "The Movement of Being" which will help people further understand the value and impact of authenticity and how it can improve our world. She lives in Melbourne, Australia. To learn more, please visit EnricaMallard.com