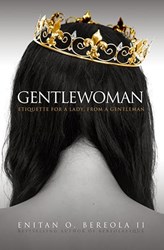 The past absolutely does not define me. It's only assisted in leading me in the way I believe I was created to go
Albany, New York (PRWEB) December 19, 2013
The freshly launched GENTLEWOMAN book written by Enitan Bereola II is now available through Amazon.com. This book now features commentary from the award-winning actress, Meagan Good, among other celebrities contributing to this ladies etiquette book visible at http://gentlewomanbook.com.
"I'm super excited to be a part of this," said Meagan Good.
Enitan Bereola II is hoping to educate women reading this new book about ways to improve intimacy, dating and etiquette in modern society. This new book is exquisitely written for women to benefit as a self-help tool to inspire all ladies.
"If I had hooked up with my husband sooner in my life, I would've messed it up, Good says in the GENTLEWOMAN book.
Discussions about faith, redemption and sexuality are explored by author Enitan Bereola II and others in the released book. Many of the contributors for commentary in the book are females to provide exceptional overviews of modern society and how some women can lose passion and etiquette in the real world.
"The past absolutely does not define me. It's only assisted in leading me in the way I believe I was created to go," Good adds in the book to inspire other women.
"Femininity is self-love. Loving all of your perfect imperfections. Understanding your immeasurable beauty inside and out. Loving the skin and the being that God created you to be as a woman," concluded Good inside the GENTLEWOMAN book.
The GENTLEWOMAN book is being promoted as part of a promotional tour in multiple U.S. cities. The website at http://www.bereolaesque-online.com is now configured to present the complete tour schedule for book promotion and updates to news concerning the writings of Enitan Bereola II.
About GentleWomanBook.com
The GentleWomanBook.com website has been created online to serve as a portal to the promote the new release by Enitan Bereola II. This company website helps to connect readers to the GENTLEWOMAN book and provide excerpts to those reviewing this book before purchase. The GentleWomanBook.com website is meant to reflect all happenings with the book release and tour appearances to promote company events. Readers of Enitan Bereola II books can purchase all new releases from this company website online. Book updates and other author appearances are located on this online resource.