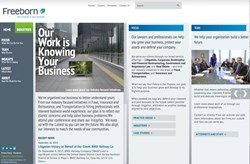 Open source systems like Drupal are the best hedge against website obsolesence.
Chicago, IL (PRWEB) September 18, 2013
Chicago-based law firm Freeborn & Peters LLP has been recognized by the Web Marketing Association for its innovative website. The firm won the 2013 Law Firm Standard of Excellence WebAward for outstanding achievement in web development. Built on the Drupal open source platform, the site was developed by Duo Consulting to function well on desktop as well as mobile devices.
"Our website strategy had four distinct objectives," said Ian Turvill, Freeborn's Chief Marketing Officer. "to be found by buyers of legal services; to provide compelling content; to demonstrate individual, practice, industry, and firm-wide competence; and to integrate our brand promise and values throughout. Duo's approach helped us achieve these goals in a compelling, enduring, and flexible manner."
The selection of the open source Drupal content management system reflected Freeborn & Peter's evaluation of total cost of ownership and the evolving nature of the Internet. According to Duo CEO Michael Silverman, "The Internet changes constantly and open source systems like Drupal are the best hedge against obsolescence. Site functionality can be upgraded as the Web changes. The idea of only updating a website once every five years or so is, in itself, obsolete."
The website is the product of a branding initiative and design concepts developed for Freeborn & Peters by Moiré Marketing Partners, and then further refined by Duo. "Brand promise is: Your Future Is Our Purpose," said Turvill. "Our website needed to reflect that. The leading-edge capabilities of Drupal have allowed us to fulfill that promise."
About Duo Consulting
Duo Consulting creates Drupal-based digital marketing websites and enterprise social networks that optimize the way organizations market and communicate online. Since 1999, Duo has worked to improve the website user experience for diverse brands across media, legal, education, nonprofit and other industries.