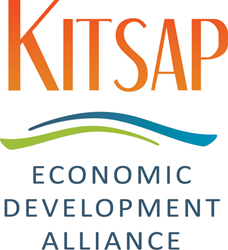 KEDA Wins Bronze in Excellence in Economic Development from IEDC
Bremerton, WA (PRWEB) October 20, 2014
The Kitsap Economic Development Alliance (KEDA) was recognized for creative marketing by the International Economic Development Council on Monday, October 20, 2014 at the IEDC Annual Conference in Fort Worth Texas.
IEDC's Excellence in Economic Development Awards recognizes the world's best economic development programs and partnerships, marketing materials, and the year's most influential leaders. These prestigious awards recognize only the most successful, innovative and effective leaders, programs, partnerships, and promotional materials for their efforts in creating a stronger local economy.
The Kitsap Economic Development Alliance received recognition in two separate categories. KEDA's innovative KitsapConnected multi-media campaign was awarded bronze in the video/multi-media category, and KADA (Kitsap Aerospace and Defense Alliance) received silver in the Special Purpose Website category.
John Powers, KEDA Executive Director, said "We are truly honored to receive this national recognition which provides our Alliance an even larger platform from which to tell and sell Kitsap's story. Both marketing initiatives are the result of collaborative efforts on the part of our partners' and a strong commitment to invest in our Alliance's strategic efforts to promote economic development in Kitsap."
The Kitsap Aerospace and Defense Alliance (KADA) which was recognized in the Special Purpose Website category, is a consortium of public and private partners with the goal of marketing Kitsap as a competitive location for aerospace business expansion within the Seattle regional market. The consortium's impetus was led by KEDA, Kitsap County, and the City and Port of Bremerton. The KitsapAerospace.com website was created to provide a unified message about aerospace opportunities for Kitsap in the expanding regional aerospace industry.
Kathy Cocus, KEDA's Business Development Director and member of the KADA Steering Committee, commented on the IEDC Award, "KADA was formed to increase awareness in our community about aerospace opportunities for existing defense firms as well as to encourage expansion projects of regional, national and global aerospace and defense firms to Kitsap County. This recognition validates Kitsap's goal to increase our aerospace footprint. The KADA website allows us to effectively make the case for Kitsap and aerospace and we are especially grateful to Steve Garfein of RPM Systems for creating the site."
KitsapConnected, which was honored in the video/multi-media category, is a KEDA outreach initiative that utilizes social media channels to convey the unique attributes and competitive strengths of Kitsap within the Greater Seattle Region. At the center of the KitsapConnected campaign is "Kitsap – Work+Life – Connected", an engaging 10-minute video that tells the story of Kitsap's economy, opportunities, and lifestyle.
Supporting this core video is a series of twelve 90-second video vignettes featuring individual Kitsap businesses and economic sectors that provide a glimpse into their personal experiences and Kitsap connection. The videos have received over 7500 views since the initial release on January 29, 2013. A dedicated web page, http://www.kitsapconnected.org links the viewer to all the videos, the KEDA website (kitsapeda.org) and additional resources.
John Powers, who accepted the awards, credits the extraordinary leadership and vision shown by project sponsors: Puget Sound Energy; Suquamish Tribe/ Port Madison Enterprises; The Doctors Clinic; Kitsap Credit Union; Harrison Medical Center; West Sound Workforce; Kitsap Bank; Applied Technical Systems; ATS; The Bainbridge Graduate Institute; Pacific NW Title, Olympic College, Western Washington University, and The City of Port Orchard. He also praised the outstanding creative work, technical expertise, and dedication of Hal Calbom and Brett Renville of Sustainable Media Group for bringing the project to life.
Steve Politakis, Kitsap Bank's CEO and Chairman of the KEDA Board, commented on the value of the project, "As a long term investor in KEDA, we at Kitsap Bank believe in the value of underwriting a program that strengthens economic vitality and growth in our community. We are gratified to see this recognition of KEDA's multi-media marketing initiatives by IEDC, the preeminent economic development council in the world. These awards provide remarkable validation of the effectiveness of our Alliance's concerted efforts to tell the story of economic opportunity in Kitsap. I want to congratulate the entire KEDA team for their efforts."
For more information on Kitsap Economic Development Alliance, visit http://www.kitsapeda.org
For more about living and working in Kitsap, visit http://www.kitsapconnected.org
For more information about aerospace & defense opportunities visit http://www.kitsapaerospace.com
About the Kitsap Economic Development Alliance
The Kitsap Economic Development Alliance (KEDA) is a private nonprofit 501(c)(6) corporation providing client-based professional business and economic development services. Founded in June 1983, our goal is to attract and retain jobs and investments in Kitsap County that generate wealth, enhance the quality of life and embrace future generations.
About the International Economic Development Council
The International Economic Development Council (IEDC) is a non-profit membership organization serving economic developers. With more than 4,000 members, IEDC is the largest organization of its kind. Economic developers promote economic well-being and quality of life for their communities, by creating, retaining and expanding jobs that facilitate growth, enhance wealth and provide a stable tax base. From public to private, rural to urban, and local to international, IEDC's members are engaged in the full range of economic development experience. Given the breadth of economic development work, our members are employed in a wide variety of settings including local, state, provincial and federal governments, public private partnerships, chambers of commerce, universities and a variety of other institutions. When we succeed, our members create high-quality jobs, develop vibrant communities, and improve the quality of life in their regions. http://www.iedconline.org.