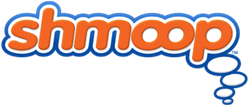 In everything we do as a company, Shmoop aims to present learners of all ages with engaging, enriching content and opportunities, and media partnerships present an additional avenue for achieving this objective.
LOS ALTOS, Calif. (PRWEB) September 24, 2018
Shmoop, a digital publisher known for its award-winning test prep and certified online courses, has announced a media partnership with the FusEd Network (FusEd), a division of Cadez Media, Inc. As a media partner, Shmoop will connect FusEd's recently launched student film and graphic design community with its vast, highly-engaged network of students and educators. More than 16 million unique visitors access Shmoop's site each month via desktop and mobile.
"In everything we do as a company, Shmoop aims to present learners of all ages with engaging, enriching content and opportunities, and media partnerships present an additional avenue for achieving this objective," said Ellen Siminoff, President and CEO of Shmoop. "Learning should be fun and should take place both inside the classroom and out in the world. FusEd is presenting a hands-on learning experience that students will love, so we are thrilled to partner with them to inform students and educators worldwide about this new student film and graphic design community. We look forward to more partnerships where we can share valuable opportunities with Shmoop users."
Shmoop offers hundreds of thousands of pages of original content, designed for everyone from elementary students through college degree-holders who are looking to advance in their profession. Shmoop works with individual users and entire school districts to deliver learning at scale, and all content is presented with the needs of learners in mind: humor, rigor, and cultural relevance are prioritized in every resource. Shmoop's range of content includes the following and more:

Hundreds of full courses for grades 3 through 12, encompassing both core subjects and electives.
The most comprehensive suite of test prep materials available through any provider, including content on every Advanced Placement exam.
More than 10,000 humor-filled, engaging videos covering everything from math, science and literacy to life skills and career readiness.
Career information that enables students to search by field, take tests to determine interests and aptitude, and more.
Expert-created adult education materials, including a growing library of finance content to deliver graduate-level business education to professionals.
Aimed at identifying and showcasing talented teens to the media industry, FusEd is a student-driven content network designed to help learners enhance their digital skills while generating major funding and donations for high school media and athletic departments. FusEd provides teams of students ages 13-18 with the opportunity to acquire hands-on experience and submit multimedia projects to a variety of contests hosted by large entertainment and media companies that are seeking fresh digital and social media concepts that resonate with high school audiences. One of FusEd's initial contests features Powerade, a division of Coca-Cola, and challenges students' storytelling abilities by asking them to share why their school's athletic program deserves $10,000.
"To ensure FusEd is positioned to deliver results for students, we desire to reach audiences of talented teens who have great ideas and a desire to create. Shmoop is an ideal partner through which to reach an excellent audience who will benefit from participating in our film and graphic design community," said Tom Cadez, CEO of The FusEd Network. "Shmoop's base of users, due to the tremendous educational value and entertaining nature of the site's content, have proven to be a highly engaged group of students who will have great success in creative opportunities such as the ones we offer."
Shmoop aims to provide its users with the best content, presented with the learner's needs in mind. This is why the company "speaks student," remaining mindful of the fact that learning is supposed to be fun for both the instructor and the learner. Media partnerships provide Shmoop with the opportunity to enhance the user experience by presenting more avenues for hands-on 21st century learning, and give partners the chance to reach an unparalleled community of engaged students, educators, and other adult learners. To learn more about partnering with Shmoop, visit this page.
About Shmoop
Shmoop offers hundreds of thousands of pages of original content. Its Online Courses, Test Prep, Teaching Guides, Learning Guides, and interactive Study Tools are written by teachers and experts and balance a teen-friendly, approachable style with academically rigorous concepts. Shmoop sees 16 million unique visitors a month across desktop and mobile. The company has won numerous awards from EdTech Digest, Tech & Learning, and the Association of Educational Publishers. Launched in 2008, Shmoop makes the magic happen from a labradoodle-patrolled office in Mountain View, California (http://www.shmoop.com).
About FusEd
The FusEd Network is owned by Valumax, a media company with 28 years of experience and innovations in the traditional and digital media/marketing industry. ValuMax Media Services developed FusEd and the network partnerships, in tandem with its strategic initiatives developed for its high school student community which generate additional funding to support school-based video productions and journalism, real-life marketing events encouraging students to further develop their talents as experienced creative contributors.