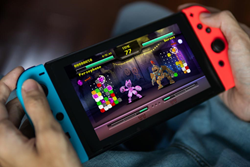 WEST ORANGE, N.J. (PRWEB) August 06, 2019
Pxlplz, an independent games and development studio, announces its award-winning competitive puzzle game, Robo Puzzle Smash, is coming soon to Nintendo Switch. A first-of-its-kind mash-up game and fresh new addition to the competitive puzzle game space, Robo Puzzle Smash is unlike anything currently available on Nintendo Switch.
Robo Puzzle Smash's combination of puzzle and fighting games appeals to fans of both genres. Nintendo Switch players will enjoy the depth of the gameplay and novel ways to play the intensely addictive and highly competitive Robo Puzzle Smash. The high-energy game tests the player's wits and skill against their opponent in a block bashing brawl with a twist.
The core gameplay involves rotating the playfield instead of rotating pieces. With the addition of this element, the rules of the game suddenly change. This adds a unique layer to the gameplay experience with new skills needed to master.
Key features and updated elements include:

Brand new four player mode
Enhanced artwork
Six characters with their own gameplay style, story, and endings
Online play and tournaments
High replayability with different difficulties on single player mode, ranks, and in-game timer for speed runs
"Robo Puzzle Smash started as a small puzzle game with a clever rotation mechanic, but after years of tuning, play testing, and development, we found it could be more interesting as a competitive game and launched it on Steam," said Pxlplz founder and Robo Puzzle Smash creator, Benjamin Cole. "Fast forward to several tournaments, conventions and awards won later, we're excited to be bringing this game to more players on Nintendo Switch, and we look forward to the support of our fans to help us do that."
Robo Puzzle Smash is expected to launch on Nintendo Switch in early 2020, with the support of a Kickstarter Campaign. Each person who commits at least a $5 contribution to Kickstarter will receive the Steam Version of the game on PC, Mac, or Linux ahead of its Nintendo Switch launch. Once the Kickstarter campaign ends, contributors can choose to add their names or a personal message to the credits, or they can opt to create a taunt for their favorite character. To contribute to the Kickstarter campaign, please visit http://bit.ly/rps_switch.
About Pxlplz
Pxlplz is an independent games and development studio based in West Orange, NJ founded in 2011 by Benjamin Cole, a games industry veteran producer and designer. Pxlplz developed and published several games for web and mobile including Star Saver for iOS, SevenYo, Super Mad Matador and Robo Puzzle Smash, its award-winning, intensely addictive and competitive game. For more information, visit http://www.robopuzzlesmash.com.