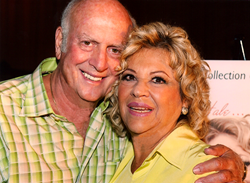 We are proud to know Corky and Mike," said CJF founder and President Edythe Bronston. "Their generosity speaks loudly for the importance of taking care of others, reflecting our own mission.
Los Angeles, California (PRWEB) March 27, 2015
The California Jazz Foundation (CJF) will host its third annual "Give the Band a Hand" benefit dinner, concert and honors presentation on April 25 at the L.A. Hotel Downtown, located at 333 South Figueroa Street in Los Angeles. The Foundation has announced that Mike Stoller and Corky Hale will take center stage to receive the CJF's "Nica" Lifetime Achievement Award, aptly engraved "for their significant far-reaching philanthropic work and astounding musical output."
The "Nica" is named for the Baroness Pannonica de Koenigswarter, the famed New York City jazz patron of an untold number of jazz musicians. Aside from yearly memberships and donations, the CJF gala fundraiser is its main source of revenue. Each year, the evening acknowledges deserving figures in and around the music. Catalina Popescu, proprietor of Catalina Jazz Club, and the Jazz Bakery's Ruth Price are past recipients of the one-of-a-kind award.
Hale and Stoller have been married for 43 years, sharing their lives throughout parallel careers and working tirelessly at the same time for a number of charitable organizations. Highlights of Hale's career range from piano accompanist for Billie Holiday to harpist for Barbra Streisand and Tony Bennett. Stoller's many credentials list his partnership with Jerry Leiber, co-composer with Stoller of 'Stand By Me,' 'Kansas City' and dozens of other R&B and jazz hits recorded by Elvis Presley, Peggy Lee and many other high-profile talents.
"We are proud to know Corky and Mike," said CJF founder and President Edythe Bronston. "Their generosity speaks loudly for the importance of taking care of others, reflecting our own mission."
The April 25 "Give the Band a Hand" event's musical presentation is being subtitled "A Marriage Made in Heaven," which, according to Bronston is the best way to describe the 2015 honorees. The evening begins at 6 p.m. with a silent auction, cocktails, and music by the Foshay Jazz Ensemble. Dinner follows at 7 p.m. with a musical tribute featuring vocalist Steve Tyrell. According to the evening's musical director, CJF Board Member guitarist Greg Porée, there will be appearances by Corky Hale, Carol Robbins, Sally Kellerman and others to be announced. Broadcaster LeRoy Downs ("The Jazz Cat") returns as master of ceremonies and basketball icon Elgin Baylor will introduce his dear friends Corky Hale and Mike Stoller. Honorary dinner chairs are: Artie Butler, Lainie Kazan, Marcus Miller, Catalina Popescu, Ruth Price and Arturo Sandoval.
Tickets for the Saturday night April 25 gala are priced at a tax-deductible $200. per person. There are also sponsorship opportunities available. Net proceeds from the April 25 event will benefit the California Jazz Foundation. To purchase tickets or to become a sponsor, the CJF can be accessed via http://www.californiajazzfoundation.org.
About The California Jazz Foundation: The California Jazz Foundation is a charitable, nonprofit organization created to aid and assist California jazz musicians in financial or medical crisis. The organization offers financial assistance (grants paid on behalf of applicants to third parties), referrals to regional service agencies, access to additional resources, home visits and other support services.
CJF is also committed to raising musicians' awareness of the importance of prevention and early treatment of disease-- through free public education and community outreach programs. Since its founding in 2006, CJF has helped 177 instrumentalists and singers with everything from rent, car payments and medical bills to financial counseling.
The California Jazz Foundation, a 501(C)(3) corporation (Tax ID#65-1270361), is part of the Entertainment Assistance Cooperative (EAC), an organization comprising entertainment charities' social workers who regularly meet and share information so that applicants need only complete one application, rather than many..
Founder and president of CJF is Edythe L. Bronston, Esq., who is joined on the board of directors and advisory board by noted jazz musicians and supporters from the business community, along with official sponsors such as The Jazz Cruise, Turkish Airlines and KJAZZ radio.
###