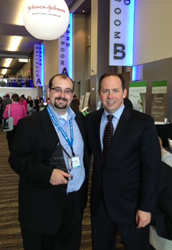 Cleveland, Ohio (PRWEB) May 20, 2014
Santa Barbara Cottage Hospital of California was honored with the annual Practice of the Year Award for implementing a model to improve medication communication. The inaugural Outstanding Caregiver Award was presented to Brandon Jones, RN, BSN, CEN, unit director of the emergency department of Carilion Roanoke Memorial Hospital in Virginia for his outstanding service and superior commitment to the patient experience.
"You have all made an impact on the patient experience. These awards honor a hospital and a caregiver who stood out among a group of excellent nominees," said AfPE President and Cleveland Clinic Chief Experience Officer James Merlino, MD, during presentation of the awards at lunch today.
The Practice of the Year Award is an annual award designed to honor outstanding innovations or improvements that enhance the patient experience and promote best practice development through the exchange of ideas among peers. Santa Barbara Cottage Hospital implemented a technique to address patient education and communication about new medications in their cardiac telemetry unit called teach-back in which providers ask patients to state in their own words instructions just discussed. After success in the pilot period, the program was implemented in the medical-surgical units and then hospital-wide.
Since implementation, the CT unit has shown improvement in HCAHPS data in the medication communication domain, moving from the 11th percentile in second quarter 2012 to the 82nd percentile in fourth quarter 2013. HCAHPS is a standardized, publicly reported survey of patients' perspectives of hospital care. It is important that patients and staff communicate about medications because of the potential for side effects and drug interactions. A higher score in this domain is better and can indicate a hospital's commitment to patient-focused care and safety. The medical-surgical floors as a whole have demonstrated an improvement in HCAHPS data moving from the 47th percentile to the 62nd percentile. Learn more about Santa Barbara's program, Get Back to Teaching with Teach Back on AfPE's website.
The Outstanding Caregiver Award recognizes a caregiver who goes above and beyond his or her job responsibilities, demonstrates AfPE values and champions the patient experience. Jones developed a training program customized for the emergency department team in his hospital called "The Patient Experience Workshop." He conducted four hour workshops every week for three months and has personally trained 98% of staff in the emergency department. The workshop is now incorporated into new employee orientation.
Based on data, his dedication has resulted in significant increases in overall quality of care, nursing understanding and caring, and significant decreases in patients leaving the emergency room without being seen. Learn more about his efforts on AfPE's website.
The award winners were selected by a committee of AfPE members.
The Association for Patient Experience (AfPE) is a nonprofit organization dedicated to the advancement of the patient experience, ensuring that quality care is delivered while keeping the patient's physical, educational, emotional and spiritual needs at the forefront. Founded in 2010 by Cleveland Clinic, AfPE is based in Cleveland, OH. Visit AfPE's website at http://www.patient-experience.org.