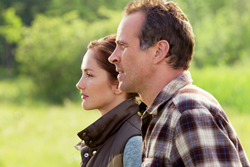 As the title of the movie – Away & Back — more than hints at, there are wonderful new beginnings in this story," says Minka Kelly. "It may start out with loss, but it ends up with the themes of hope and life… and love.
KANSAS CITY, Mo. (PRWEB) January 21, 2015
Jason Lee ("My Name Is Earl," "Almost Famous") and Minka Kelly ("Friday Night Lights," Lee Daniels' "The Butler") star in the original Hallmark Hall of Fame film, "Away & Back," premiering Sunday, Jan. 25, 2015, 8-10pm ET/PT on Hallmark Channel.
Jason Lee's Jack Peterson, a widowed father of three young children, encounters Minka Kelly's Ginny Newsom, a wildlife biologist, whose mission is tracking trumpeter swans, a family of which settle in a pond on the Peterson farm.
The mother swan perishes, after laying several eggs. It's not clear baby swans (called cygnets) will emerge from the eggs, and survive. That's when Jack's 10-year-old tomboy daughter, Frankie (played by "We Bought a Zoo's" Maggie Elizabeth Jones), gets involved.
She's determined to rescue the eggs and then nurture the struggling cygnets. Jack is torn between encouraging Frankie's humanitarian impulse and putting a damper on the girl's life-saving instinct. What will happen if the eggs don't stay viable, or the motherless cygnets don't survive? Jack fears this possible loss of life would be devastating for vulnerable Frankie, especially since she's already lost her own mother.
The other two children in the Peterson family are 13-year-old Kyle (played by "Barney & Friends"' Jaren Lewison) and 15-year-old Stretch (played by newcomer Connor Paton).
Adding to the sensitivity of the situation is the relationship between protective-dad Jack and pushy, know-it-all Ginny. Initially it's dislike at first sight, but then fiercely-independent Ginny finds herself becoming an integral part of the Peterson family.
Interviewed on the film's set, in the foothills of Alberta's majestic Rocky Mountains, Jason Lee says he empathizes with the character of Jack.
"He's feeling a bit overwhelmed at times," says Lee. "There's some weight on him. He feels a little shortchanged because of the loss of his wife. He gets a little snippy with his kids, but he's trying to do the best he can.
"And then along comes Ginny, played by Minka [Kelly]. Jack sees her as a possible change agent – and the last thing he wants is change!"
Describing her character, Ginny, Minka Kelly says, "She may be great working with birds, but she's terribly insensitive when it comes to working with people. When Ginny comes crashing on to the scene, demanding the eggs, Jack is totally taken aback. She thoroughly alienates the Peterson kids, especially the youngest one, Frankie, who has grown so attached to the eggs, and the promise of life they contain."
Jason Lee says as the story develops there's slowly a thaw in what he calls "the ice-cold state of mutual dislike and tension" that exists between Jack and Ginny.
"Ginny becomes attached to the family; Jack sees that Ginny's not an evil ogre. She does care about the kids, she really does care about the well-being of the cygnets that will emerge eventually from the eggs."
Minka Kelly adds, "As the title of the movie – Away & Back — more than hints at, there are wonderful new beginnings in this story. It may start out with loss, but it ends up with the themes of hope and life … and love."
"Away & Back" is directed by Hallmark Hall of Fame veteran Jeff Bleckner ("Beyond the Blackboard," "Remember Sunday"). The screenplay is by Jonah Lisa Dyer and Stephen Dyer ("Hysteria"). It is produced by Andrew Gottlieb ("Beyond the Blackboard," "Christmas in Conway"). Naketha Mattocks is Co-Executive Producer. Frank Konigsburg ("The Tommyknockers," "William & Kate") and Brent Shields ("One Christmas Eve," "The Magic of Ordinary Days") are executive producers. It is from Hallmark Hall of Fame Productions.