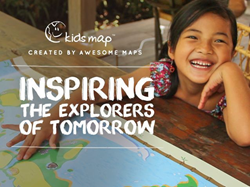 It fosters interaction and gives you the opportunity to spend time with your kids—away from the screen.
Charlotte, NC (PRWEB) April 01, 2014
On April 8, 2014, Awesome Maps creator Simon Schuetz will launch a new crowdfunding campaign on Kickstarter for a fun and educational map geared towards children. The team behind the project has created a simple, illustrated map base to serve as a jumping-off point for exploring the world. Using backer votes, they will create sticker sets and educational flash cards that take kids on a journey through the world's wonders.
The kidsmap will help children satisfy their natural curiosity, sparking questions on a wide range of topics like the stories behind the Seven Wonders of the World, animals that roam the planet, historical landmarks and more. The flash card deck will provide information on each sticker, as well as clues regarding its placement on the map.
Because most maps for children aren't truly made for kids—they're too complex and don't offer any interactivity to keep kids playing and engaged—Schuetz decided it's time to create a new map that will inspire kids to learn about the planet, cultures, animals and marvels they've never before seen.
"We could have made an app, but we really think there is something magical about a physical product," says Schuetz. "It fosters interaction and gives you the opportunity to spend time with your kids—away from the screen."
This past summer, Schuetz successfully crowdfunded another awesome map, the bucketlistmap, raising over 700% of his initial funding goal and collecting over 1,000 destinations from backers in over 35 countries. With the help of his supporters, Schuetz was able to bring his map to life, and he hopes to do the same for the brand new kidsmap.
To show his appreciation for those who contribute to his project for the kidsmap, Schuetz is offering some remarkable rewards including single and multiple sets of the kidsmap itself with the stickers and flash cards, Stiicks frames—another crowdfunded project, custom stickers, once-in-a-lifetime trips and more.
To learn more about Awesome Maps' upcoming Kickstarter campaign launch on April 8, visit http://www.awesome-maps.com, Like Awesome Maps on Facebook and Follow Awesome Maps on Twitter @awesome_maps.
About Awesome Maps
Awesome Maps creates awesome illustrated world maps, and believes that maps should offer more than just continent outlines, political boundaries and numbered roads. This line of beautifully illustrated maps show travelers the world how they want to see it—through detailed, hand-drawn illustrations, useful information and more. Awesome Maps inspires the explorers of tomorrow. For more information, visit http://www.awesome-maps.com.