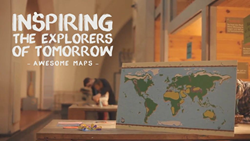 I think kids need a map that helps them discover this awesomeness, laid out across the planet in a way they can touch, interact with, and understand.
Charlotte, NC (PRWEB) April 08, 2014
Today worldwide explorer and longtime cartographer Simon Schuetz has introduced his fun and educational map, the kidsmap, to the crowdfunding community on Kickstarter. After successfully crowdfunding over $60,000 to create one of his previous maps, Bucketlistmap, Schuetz is prepared to offer the travelers of tomorrow a map that will inspire them to learn about the planet and all it as to offer.
From cultures and landscapes to oceans and animals, the new kidsmap is accompanied by a set of 140 beautifully hand-illustrated stickers plus optional flash card add-ons. This new educational set offers children a fun and interactive way to learn about all the different corners of the world without realizing they're learning. When creating this map, Schuetz was determined to come up with something that would inspire kids to explore the planet and its people.
"As a tiny German cartographer, I never got a chance to learn about the world as a kid. I explored through a toy globe, but all I saw were green and yellow countries and faceless city names—they didn't inspire me to explore," says Schuetz. "Planet Earth is awesome. Every day, I am amazed by the cultures, cuisines, animals, and monuments around us. I think kids need a map that helps them discover this awesomeness, laid out across the planet in a way they can touch, interact with, and understand."
Schuetz and his team started with a simple map base that beautifully displays continents, deserts and major mountain ranges. The best part about the map is the sticker set that accompanies it. From animals that roam the Serengeti to natural wonders like the Grand Canyon and man-made marvels like the Great Wall of China, the sticker set takes the map to a whole new level. The 140 hand-illustrated and removable stickers that make it to the final set will be chosen by Kickstarter backers themselves—the epitome of crowdsourcing.
The set of quiz flash cards offer more information about each sticker and turn the kidsmap into a full-on geography game that has been tried and tested by kids ages 5-10. Parents and their children can explore the world one-by-one, using stories from their own travels, or using the educational flash cards as a guide on their global journey.
In exchange for supporting his project, Schuetz is offering the chance to be a part of creating the beautiful stickers, along with many other rewards including the kidsmap itself, multiple packs, map frames, vacations and more—there is surely something for everyone, and the first 50 backers will be given the chance to decide how much they think the map is worth with a "pay what you wish" reward level.
To back the kidsmap today on Kickstarter, visit http://bit.ly/AMKidsKS. Those interested in keeping up with the campaign and learning about contests, announcements and more should Like Awesome Maps on Facebook and Follow Awesome Maps on Twitter @awesome_maps.
About Awesome Maps
Awesome Maps creates awesome illustrated world maps, and believes that maps should offer more than just continent outlines, political boundaries and numbered roads. This line of beautifully illustrated maps show travelers the world how they want to see it—through detailed, hand-drawn illustrations, useful information and more. Awesome Maps inspires the explorers of tomorrow. For more information, visit http://www.awesome-maps.com.