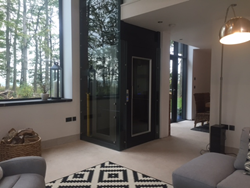 The design is perfectly complemented by the sleek glass lift.
(PRWEB UK) 5 November 2015
Clitheroe based lift specialists Axess 2 have completed the installation of a 5 stop glass lift in a restored water tower near Harrogate, providing the finishing touch to an extensive project featured on the popular Channel 4 programme The Restoration Man.
The owners of the water tower, Majid and Carol Nadry, bought the 46ft tall derelict water tower at auction in 2012, with ambitious plans to convert it into a stunning home within a year. However, the restoration presented a range of unexpected issues and considerable delays, including year-long negotiations over right of access to the property, combating an earlier planning decision in order to gain permission to retain the original water tank at the top of the tower, and the need for extensive structural reinforcement of the tank to make it safe.
Having lived in a bungalow for the last twenty five years, they considered a lift an essential aspect of their new home, as carrying cups of tea from their ground floor kitchen to the spectacular water tank sitting area at the top of the tower would present a considerable issue. Axess 2 were able to assist with one of their compact, efficient and contemporary lifts, providing easy access to the top levels of the building and helping to bring the three year project to a close.
A spokesperson for Axess 2 said of the project: "It is an absolute honour to be involved in a project as unique as the Pannal water tower. Carol and Majid have completely transformed the tower into a stunning contemporary home, and the design is perfectly complemented by the sleek glass lift which really allows you to appreciate the building as you make your way up it."
The Pannal water tower project was originally featured in an episode of The Restoration Man broadcast in January 2015, when the property was still incomplete. While Axess 2 were on site completing work on the lift they encountered presenter George Clarke making a return visit to the site to see the completed home, as detailed on their blog at http://www.axess2.co.uk/axess-2-install-stop-lift/.
Based in Clitheroe, Lancashire, Axess 2 are a family owned company offering a range of lift solutions for both residential and commercial properties. With core values based on the quality of both their products and their customer service, they pride themselves on a reputation that has grown through recommendations from satisfied customers. They have supplied lifts to a wide range of prestigious projects, including projects for homes featured on Channel 4's Grand Designs and The Restoration Man, as well as lifts for retail giants such as Apple, Mamas & Papas, McDonalds and more.
For more information on Axess 2 and their products, please visit their website at http://www.axess2.co.uk.