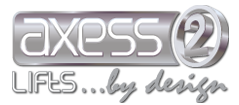 "The Traction 600 is very much designed by you and made by us. Its range of sizes, colours and finishes make it ideal for any property..."
(PRWEB UK) 27 August 2015
Clitheroe-based specialists in the provision of high quality elevator solutions, Axess 2, are proud to announce the UK's first single phase passenger lift, the Galileo Traction 600. With the launch of their new lift, they are yet again indicating their commitment to innovation and product diversification as they continually strive to provide solutions for a greater range of innovative access needs.
The Galileo breaks the mould in that it does not come with a set standardised size. As such it can be implemented in a range of sizes to meet an array of individual access needs, with bespoke cabin sizes of 3 to 8 people. Equally, due to its range in passenger volume, it has a mass capacity of up to 600kg in order to meet an array of potential client specifications. The full specifications of the Traction 600 are available at http://www.axess2.co.uk/traction-600-galileo-lift/.
Nathan Massey, Marketing Manager at Axess2, said of their new product line; "The Traction 600 is very much designed by you and made by us. Its range of sizes, colours and finishes make it ideal for any property; we are particularly proud of the variety of product options we can offer to our clients with just one lift.
"As a smaller family run business, our lifts are not mass produced like other brands on the market," Massey continued, "with such a diverse lift solution it is important to give each elevator the individual attention our customers deserve to guarantee that the elevator solutions we provide meet the high quality standards we have set at Axess 2."
Suitable for retail, commercial DDA compliant and homelift applications, the Traction 600 is installed to the Lift Directive, and has a low pit and low headroom variant. The lift's machine roomless status enables for the saving of space upon its installation. Thanks to the Traction 600's quality tested technology and use of innovative components, the elevator boasts an eco-friendly status through its implementation of latest generation motors and pioneering components. In addition, it can continue to run without mains power in emergency situations, offering extra peace of mind to its users.
Based in Clitheroe, Lancashire, Axess 2 are a family owned company offering a range of lift solutions for both residential and commercial properties. With core values based on the quality of both their products and their customer service, they pride themselves on a reputation that has grown through recommendations from satisfied customers. They have supplied lifts to a wide range of prestigious projects, including a project for a home featured on Channel 4's Grand Designs, as well as lifts for retail giants such as Apple, Mamas & Papas, McDonalds and more.
For more information on Axess 2 and their products, please visit their website at http://www.axess2.co.uk.