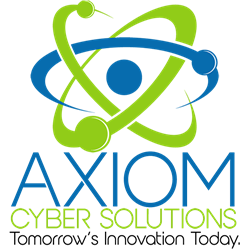 Being able to have a concerted effort to help global companies get protected, both from a physical perspective as well as a logical perspective brings a lot of value to our customer base. - Troy Wilkinson, CEO Axiom Cyber Solutions
LAS VEGAS, NV (PRWEB) April 14, 2016
Axiom Cyber Solutions and International Consultants & Investigations today announce an exclusive partnership to bring cyber security solutions across the globe. Both companies have specialties in the security & investigative space, but now combine their skills to bring a holistic security solution to their respective clients.
"Being able to have a concerted effort to help global companies get protected, both from a physical perspective as well as a logical perspective brings a lot of value to our customer base," said Troy Wilkinson, CEO of Axiom Cyber Solutions. "They truly have a holistic security provider that can assist with vetting principals, investors, board members, and employees as well as shore up any digital vulnerabilities that would cost them market share and market competitiveness through data breaches similar to what we saw in Panama."
Axiom and ICI have previously partnered on vulnerability assessments and penetration testing in South America, and are currently working with clients in Asia and the Middle East. This official announcement enables the companies to streamline processes and customer interaction to ensure a seamless customer experience.
"Our clients around the world have been concerned about their cyber security strategy for some time as they know they are being targeted not just physically but also digitally. This partnership will allow ICI to leverage the international expertise of Axiom and their cyber security professionals to deliver world class service to our clients." said Earl Johnson, CEO of International Consultants & Investigations.
Axiom Cyber Solutions specializes in cyber security hardware and professional services. The co-founders both have extensive diplomatic cyber security experience with agencies such as the U.S. State Department, European Union and the United Nations. They now provide cyber security services to companies looking to find and fix gaps in their cyber protection. Through vulnerability assessments, penetration testing, and compliance audits, Axiom can identify weaknesses in a company's defenses and then help remediate the gaps.
International Consultants and Investigations is a global private investigation firm that helps customers across the globe with international investigations and information analysis for corporate, financial, legal and government clients worldwide. They also provide support for fidelity bond/crime coverage claims, litigation support, strategic intelligence, and factual analysis, and security of physical & intellectual property.
By combining different areas of security expertise, the two companies will bring a new approach to the growing field of physical and logical security.
About Axiom Cyber Solutions – Axiom Cyber Solutions is a Las Vegas based cyber security company responsible for some of the most unique and most capable security appliances on the market. Axiom has a proprietary Denial of Service mitigation algorithm and currently produces the world's most powerful DDoS mitigation appliance. Axiom also has a proprietary ransomware algorithm built into every device they produce that can stop nearly 100% of ransomware infections. Axiom focuses mainly on providing a low cost monthly subscription to small businesses that includes a $3,000 firewall at no upfront cost. Axiom then manages, monitors and updates that firewall for the business at a cost of under $200 per month.
About International Consultants & Investigations – International Consultants & Investigations (ICI) was founded in 2002 by Earl Johnson, a former Deputy Inspector with the New York Police Department. ICI has conducted investigations on nearly every continent and commands a global presence for trust and reliability. ICI is a member of the prestigious Council of International Investigators, and their investigators work with law enforcement agencies around the world on both private and governmental investigations.
###
For more information, contact:
Troy Wilkinson, CISSP - CEO
Axiom Cyber Solutions
3077 E. Warm Springs Road, Suite 300
Las Vegas, NV 89120
http://www.axiomcyber.com
1-800-519-5070
Earl Johnson, DM, CII - CEO
International Consultants & Investigations
200 Park Avenue, Suite 1700
New York, NY 10166
http://www.icicyber.com
1-866-977-3700
1-212-582-3115