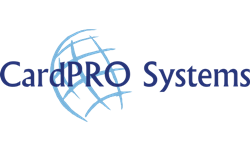 SALT LAKE CITY (PRWEB) December 26, 2019
Axiom is a global provider of end-to-end financial solutions for individuals and businesses with an emphasis on prepaid cards, white label programs, and compliance and risk programs. Based in Ogden, Utah, CardPRO is a fast-growing merchant processing and account services provider that caters to a client list ranging from start-ups to growth enterprises.
"White label" is the term for products created by a third party with a particular business's branding on them. Axiom created an end to end platform for the Impact® Visa® Prepaid Card for the CardPRO team. With the logo'd card, CardPRO can pay commissions, reward loyalty, and distribute compensation to their own customers, agents, affiliates while also offering a cost-effective alternative for the unbanked clientele in the United States. All while building brand recognition every time their custom card is used.
According to CardPRO Systems co-founder, Jared Johnson, Axiom was the clear choice when his organization started to explore white label prepaid card options: "Axiom has extensive experience in the prepaid card arena and their digital tools and customer support services really won us over. They listened to what we needed and developed a program that works specifically for our needs and our systems."
"We're really impressed by how quickly Axiom was able to get our card to market and how helpful they were in ensuring compliance and risk assessment considerations were addressed," added Mike Bartlett, co-founder, CardPRO. "As a result, Impact is easy to use, has great features, and boldly trumpets our brand. We're really excited about the program and having Axiom manage it for us. It turned out even better than expected."
Axiom co-founder and CEO, Steven Foster, says CardPRO is among the forward-thinking organizations that have recognized the broad potential of using white label programs to boost business.
"New revenue from white label card programs can range from six to seven digits per year depending on card spend and the number of cards issued, so savvy businesses are seizing the opportunity," explained Foster. "Likewise, the businesses adopting white label cards know that consistent branding can increase revenue by up to 23 percent in addition to strengthening relationships with target audiences."
"What was great about working with CardPRO was how collaborative the process was. They had a clear vision and we helped bring that to life for them. We are excited to continue that relationship as we manage the program for them for the long-term," he added.
About Axiom Prepaid Holdings:
Axiom Prepaid Holdings was born of the desire of two entrepreneurial-minded banking industry veterans to turn the prepaid card model upside down. To make banking simple. To give consumers and businesses around the globe access to innovative, easy-to-use, digitally driven, fun, flexible and secure products and services. Today, Axiom has 9 offices in 13 countries. Every day, the Axiom team strives to create 100% turnkey solutions to help cardholders gain economic freedoms and help businesses achieve growth and success.
To learn more about Axiom Prepaid Holdings, please visit: http://www.axiompph.com
About CardPro Systems:
CardPRO Systems was formed when two industry Veterans combined efforts to maximize their talents, with a desire to bring to market a new solutions-based company offering a host of solutions providing traditional merchant services and other related products and services. With the introduction of Impact Visa Prepaid Card comes a feature rich Visa Branded Prepaid Debit Card that will challenge any card on the market. Having a full suite of services and a level of Customer Service that will put CardPRO ahead of its competition, they can continue to aggressively focus on what they do best while looking for new innovations that will help secure their place at the top.
To learn more about CardPRO Systems, please visit: http://www.cardprosystems.com