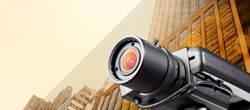 As a Silver Partner, TriTech Corporation of southeastern Wisconsin can design, install and service any Axis camera network.
Waukesha, WI (PRWEB) February 17, 2015
TriTech Corporation in Milwaukee has achieved Silver Partnership status with Axis Communications. Axis has recognized TriTech for its proven knowledge in IP cameras and video surveillance technology. As a result, TriTech can offer its customers in the southeastern Wisconsin area a greater range of products and expertise, with an even better return on investment.
Businesses and organizations in every industry are realizing the advantages of IP security cameras over their outdated analog counterparts. A single IP camera can do the work of several analog cameras through state-of-the-art, digital, HD imaging technology. The cameras leverage existing Ethernet infrastructures rather than having to route specialized analog wiring throughout the building or campus.
Axis Communications has been at the forefront of the worldwide transition from analog to IP-based surveillance. Migrating from analog to IP is easy, with encoders available to leverage existing CCTV solutions with IP-based networks. TriTech's new partnership with Axis makes it even simpler for businesses to upgrade their security strategy.
Axis builds cameras of every type and form:

Dome, compact and bullet-style cameras
Ready for indoors or outdoors in any condition
5MP HD image sensors and two-way audio
Thermal imaging with heat sensing capabilities
Panoramic to telephoto lenses
Motorized PTZ with incredible zoom
As a Silver Partner, TriTech Corporation of southeastern Wisconsin can design, install and service any Axis camera network. The technicians and engineers at TriTech deliver the area's best IP camera support. Plus, the Silver status enables TriTech to provide specialized services like advanced product replacement.
Learn more about Axis cameras, IP security and surveillance network management by contacting TriTech Corporation today. Receive peace of mind with Axis and TriTech taking care of security. Contact by phone: (262) 717-0037 or by email: service(at)tritechcoa(dot)com.
About TriTech Corporation
TriTech has grown from a printer repair business into southeastern Wisconsin's premier single-source IT provider. Since 1993, we've believed in using technology to help businesses and organizations boost productivity and reduce overall expenses. Find out how our years of experience, proven accountability and broad service portfolio can strengthen your bottom line, no matter what industry you're in.