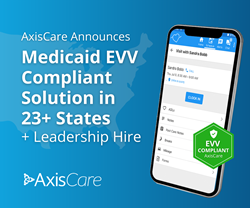 "Medicaid scheduling and billing workflows have historically been very challenging for most agencies, but AxisCare is here to change that," said AxisCare's CEO, Todd Allen
WACO, Texas (PRWEB) October 05, 2021
AxisCare Home Care Software, the market leader for scheduling, billing, and EVV solutions for private pay and Medicaid home care agencies, announced today that their platform is now EVV compliant in 23 states, with 9 others coming very soon.
Their EVV-compliant software, combined with many state-mandated EVV aggregator integrations, has enabled AxisCare to roll out their platform to Medicaid agencies in almost two dozen states, ensuring visit information required by Medicaid is sent quickly and accurately to each state's chosen/mandated system. The HIPAA-compliant solutions will simplify reimbursement processes for agencies reimbursed by Medicaid, helping them get paid faster while remaining compliant throughout the process.
To spearhead the company's Medicaid efforts, AxisCare is also announcing a strategic hire to expand the broad initiative. Mark Decker has now joined the company as Director of Medicaid Services and has already broadened R&D efforts to expand AxisCare's reach in other states as well as improve workflows for current Medicaid clients. With over 21 years of post-acute Healthcare experience, including senior leadership roles in Product Management, Customer Success, and Development, Mark brings a vast knowledge base to the sizable non-medical and Medicaid software company.
"I am excited about the commitment AxisCare has made to being the best at enabling our customers to excel at serving Medicaid clients," said Decker. "The opportunity to partner with agencies to continuously improve Medicaid product functionality, state-specific training/implementation and support is an incredible focus where the AxisCare team can continue to deliver innovative solutions."
In his role, Decker will pioneer the company's mission to provide Medicaid agencies with a single-source solution that simplifies and speeds up their EVV processes and Medicaid billing.
"Medicaid scheduling and billing workflows have historically been very challenging for most agencies, but AxisCare is here to change that," said AxisCare's CEO, Todd Allen. "We have been working with agencies for years now to help both private pay and third party billing (such as Medicaid) to be more streamlined. We recently highlighted Medicaid as an important initiative because our platform is helping many more agencies provide care to a growing population who need care. Our goal is that agencies will take on more Medicaid clients now that AxisCare takes away many of the headaches associated with this program, and with Mark now onboard, we will see a great acceleration of this effort."
AxisCare's team of Medicaid experts is staying up to date on each state's unique Medicaid rules and regulations. Visit their state-by-state EVV page to see how AxisCare provides an EVV solution in each of the 23+ states. They are working closely with AxisCare customers, ensuring they are fully trained on the platform's Medicaid billing and EVV capabilities, allowing them to bill and receive reimbursements within days of setup.
About AxisCare
AxisCare Home Care Software is an all-in-one scheduling and management software, serving non-medical home care agencies across all 50 states and 7 countries. Specializing in Private Pay, Medicaid, and other 3rd-Party Billing integrations, their user-friendly platform helps agencies keep track of visits, manage their caregivers, and grow their business.
Recently named a category leader in the home care software space by both G2Crowd and GetApp, their industry-leading tools include a GPS mobile app, custom reporting, drag-and-drop scheduling, caregiver chat, hospitalization tracking, medication reminders, payment processing with next-day funding, built-in marketing, business intelligence, EVV, and more.