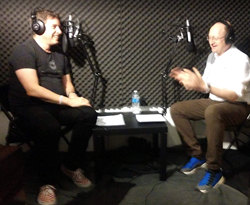 "This is the kind of CEO and company that we're really excited to help get the word out about - they have real revenues, over 500 great customers worldwide and a fantastic market opportunity as video keeps growing" - Brian MacMahon
SANTA MONICA, Calif. (PRWEB) December 13, 2018
Sam Bogoch is the CEO of axle ai, a rapidly-growing software company that counts many of the world's top media companies and teams in its customer base. An early investor in axle was Santa Monica's Expert Dojo, whose founder Brian Mac Mahon specializes in finding and nurturing some of the most innovative startups emerging in the B2B and B2C spaces.
In a wide-ranging conversation, Brian and Sam discuss how axle ai got its start, some of the early challenges it faced along the way, and where the field of video management and search is headed. It's a breezy and entertaining half-hour podcast, as Sam and Brian touch on unicorns, Betamax, bootstrapping a successful company, the future of AI in video, and the mysteries of accumulating too many hard drives, among other topics.
The podcast is available now at
SoundCloud - https://soundcloud.com/artofstartupwar/73-sam-bogoch-of-axle-ai-inc
YouTube - https://youtu.be/G8T9f8174tE
iTunes Podcasts - https://itunes.apple.com/us/podcast/73-sam-bogoch-of-axle-ai-inc/id1257919233?i=1000425597114&mt=2
Castbox for Android - https://castbox.fm/vb/107329450
###
About axle ai, Inc.
axle ai is the pioneer in developing radically simple video search and management software that takes full advantage of ongoing developments in artificial intelligence and machine learning. As social media drives massive growth in video capture and postproduction, axle ai uniquely addresses a burgeoning need and has caught on rapidly among video professionals in post-production, education, broadcast, corporate, sports, house of worship, non-profit, advertising-marketing, and government organizations worldwide. At its introduction, axle software was recognized with the IBC 2012 Best of Show award and at NAB 2013 with the prestigious DV Magazine Black Diamond and Post Picks awards. axle ai is a privately held company, based in Boston; its founders have extensive industry experience in media software for creative applications. Learn more at http://www.axle.ai.
About Expert Dojo
Expert Dojo improves the success rate of early-stage entrepreneurs with investment, foundation, showcasing, influence, and community. Expert Dojo is the fastest growing start-up community in Southern California based in Santa Monica. We help early-stage startups through investment, foundation, showcasing, and influence. Since 2014, we have worked with over 500 startups to accelerate their growth and success. Entrepreneurs love Expert Dojo and the power of our startup community. All entrepreneurs in our programs have agreed to support the whole community as we get stronger together.