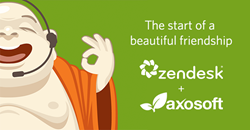 Axosoft's integration with Zendesk enables the flow of information between support and development teams, which is critical to the success of software development companies.
Scottsdale, AZ (PRWEB) December 17, 2014
Enabling the flow of information between support and development teams is critical to the success of software development companies. Connecting their workflows allows that communication to flow effortlessly. Axosoft has made this possible by developing an integration between its project management and bug tracking software and Zendesk's customer support software.
"Axosoft's integration with Zendesk demonstrates our commitment to empowering our customers as they strive for greater efficiency in communicating, collaborating and solving issues," said Lawdan Shojaee, CEO at Axosoft.
What does this mean for software development companies? They can now eliminate hundreds of hours spent duplicating items and communicating status reports. How? By enabling their support teams to quickly escalate Zendesk support tickets to features or bugs in their Axosoft backlogs.
Furthermore, automated workflow step actions eliminate the need to update the workflow status of a linked Zendesk ticket and even allow for additional communication in a public or private message. The two-way communication between Axosoft and Zendesk allows support teams, developers and project managers to clearly see how an item is progressing through development. The integration closes the loop by allowing Axosoft to automatically communicate back to the Zendesk and the support team when the item is completed in development.
This integration makes it possible to keep overhead down by not having to purchase additional licenses for support to access Axosoft and developers to access Zendesk because comments and status updates flow seamlessly between the two. It's easy for support to respond to customers about the status and resolution of items without ever leaving Zendesk, and developers get all the details they need to resolve issues in Axosoft.
Learn more about connecting support and development teams through the integration of Axosoft and Zendesk.
Project Management Software Defined
Project management software is used to organize, plan and manage projects in various industries. The software development industry in particular relies heavily on powerful project management software to successfully schedule, estimate, communicate, collaborate, document, allocate resources, and manage the quality of their software.
About Axosoft
Founded in 2002, Axosoft has grown to be a leading provider of project management software for development teams worldwide, including teams using Scrum, agile, kanban, lean, and combinations of different methodologies. Axosoft is a fun-loving company based out of Scottsdale, Arizona and is very involved in the tech community. Their decision to make Axosoft Bug Tracker completely free for development teams of all sizes, is just one indicator of their commitment to improving and growing software development in the Silicon Desert. Their work hard, play hard mentality has also earned them recognition on lists such as Career Builder's Top Companies and Phoenix Business Journal's Coolest Workspaces.