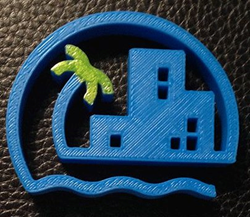 "We can create a 3D-print of your logo from any source", says
Hollywood, FL (PRWEB) February 27, 2014
Today AxoStyle announces the 3D-Logo Service. Create a 3D Logo from any business card. AxoStyle will scan your card and 3D-print a plastic model of the logo from the card. AxoStyle offers to 3D-print the logo in bronze, steel, silver or plated gold. Customers also receive the 3D file (STL) to take home.
"We can create a 3D-print of your logo from any source", says Rick Valdez, Founder of AxoStyle. "Send us original art, a photograph or a business card. Musicians and bands who have their own logo designs can now go way beyond selling t-shirts on tour."
Once the customer orders the 3D model, AxoStyle works to integrate the piece into the clients promotional offerings. The business logo can be made into a silver tie-clasp, a pair of steel dice, a gold plated brass ring, almost anything. The logo becomes an asset that generates income. Create gifts and promotional items to increase sales and promote brand awareness.
"Order only a few pieces," says Rick. "You no longer need to order 1,000 of anything. Order 1 or 5, 10 or 100. Any order size can be arranged. Prices for pieces start from $9 and up, depending on material."
AxoStyle can also create a replica of almost any part. "Don't throw the radio away because the dial snapped. Send AxoStyle the dial and we'll make a new one," states Mr. Valdez. "How many things in your house are not used any longer because a handle, gear or knob has broken? No longer. The throw-away era is over."
AxoStyle is an innovative design firm building advertising and promotional products for discerning clients. Axostyle is based Hollywood, FL. Contact Rick Valdez at 986-202-5063. Email info(at)axostyle(dot)com.