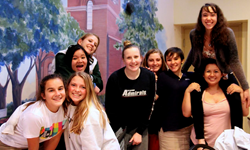 Annapolis, MD (PRWEB) May 05, 2014
Dinner and music is on the menu when The Annapolis Youth Chorus presents a Café Cabaret for its spring concert on Tuesday, May 13, at 6:30 p.m. at St. Anne's Parish House in Annapolis. Members of the AYC will perform their favorite selections from hit movies and Broadway musicals. All AYC alumni are invited to join the evening and participate in a sing-along finale.
Dinner, prepared by some of Live Arts Maryland's finest chefs, will be served from 6:30-7:00 pm, and includes vegetarian and gluten-free options. Music begins at 7 p.m. Tickets are $10 for adults and $5 for students aged 10-18. Children under 10 attend free. All ticket proceeds benefit the Annapolis Youth Chorus and the music education programs offered by Live Arts Maryland. Seating is limited so visit the Live Arts Maryland Website to get tickets.
Under the direction of Laurie J. Hays, The Annapolis Youth Chorus offers young singers a rewarding musical experience while helping them develop a life-long love of music through choral singing and solid musical training. The AYC is open to all students in grades 8-12 regardless of race, religion or creed. The AYC has performed at the opening ceremonies at the Volvo Boat Race and Maryland Maritime Heritage Festival, have sung the National Anthem at Bowie Baysox game, and at many local events and gatherings, including several appearances with the Annapolis Chorale and Annapolis Chamber Orchestra. In June 2006, the group made its Carnegie Hall debut under the direction of John Rutter and recently performed at the Kennedy Center for the Performing Arts under the direction of Dr. Z. Randall Stroope.
The Annapolis Youth Chorus a part of the Live Arts Maryland organization, J. Ernest Green, Music Director, and includes young voices from private, public and home schools throughout Anne Arundel County. Live Arts Maryland is also home to the Annapolis Chorale, the Annapolis Chamber Orchestra and the St. Anne's Music Series.
For more information, call 410-263-1906 or visit http://www.liveartsmaryland.org.