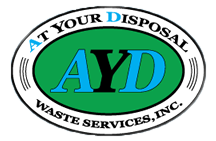 The green initiative here in Austin is thriving, and it makes us proud to be able to provide recycling and hauling services for local construction projects like the Home2 Suites
Austin, Texas (PRWEB) April 30, 2015
Austin dumpster rental company At Your Disposal (AYD) Waste Services, Inc. provides specialized dumpsters, recycling and hauling services to Austin, Texas, and surrounding areas. Recently, AYD Waste began servicing Home2 Suites hotel construction project under general contractors G2 Construction. The first brand launched by Hilton in two decades, Home2 Suites is a new line of affordable, all-suite hotels with an adjustable wall for customizable guest room layouts. A key feature of the Home2 Suites hotels is sustainability, implementing environmentally conscious construction practices, amenities and operations. The $5 million Austin hotel will have 87 rooms, with a total of 56,600 square feet of space. On average, AYD Waste is able to recycle 98 percent of all materials hauled from construction sites.
LEED certified projects have strict requirements for how construction debris is to be handled. AYD meets green building requirements laid out by the US Green Building Council and the City of Austin, qualifying them to properly handle and recycle construction materials. For the Home2 Suites project, AYD will be provide standard 30-yard roll off dumpsters to collect, haul and recycle refuse such as concrete, drywall, sheetrock, cardboard, aluminum and plastics.
"The green initiative here in Austin is thriving, and it makes us proud to be able to provide recycling and hauling services for local construction projects like the Home2 Suites," said Chuck Herb, owner of AYD Waste Services, Inc. "Hotels like this that make sustainability a priority are inspirational to the community and have an incredible ability to minimize the impact on the environment."
About At Your Disposal (AYD) Waste Services, Inc.:
At Your Disposal (AYD) Waste Services, Inc. provides recycling and refuse hauling to the greater Austin, TX area. The company offers roll-off dumpster rental, waste disposal services, compactor rentals, construction debris removal, and hauling of recyclables, junk and more. AYD offers same-day service. Committed to protecting the environment, AYD is a LEED-certified waste collection company and participates in the Texas Environmental Quality Initiatives Program as well as local community beautification projects. To learn more about AYD and the services offered, please visit http://www.aydwaste.com.