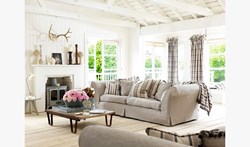 Shabby Chic with a Hint of the Highlands
(PRWEB UK) 30 September 2013
Ayrshire, Pemberley and Marina are the name of three refreshing and exciting new fabric selections to be included in Prestigious Textile's new Autumn/Winter 2013 collections. All are currently available to order today on leading curtain and household textiles portal Curtains Made Simple.
The Prestigious Textiles design house, which is currently celebrating a successful quarter of a century in the fabric retail sector, has based its latest collection on such concepts as folklore and industrial heritage. To this end it features chic embroidery, vintage prints, updated jacquards and modern weaves in abundance – all of which are perfect to fashion into custom made curtains, Roman blinds, cushions, bed spreads, bean bags, table cloths and a whole selection of household textiles. The Prestigious Textiles autumn/winter collection also boasts fire retardant fabrics suitable for hotel and restaurant use and other commercial premises, as well as household use.
The above three ranges – Ayrshire, Pemberley and Marina – are part of 17 new selections introduced by the Yorkshire-based firm which now also enjoys a European, African and Far Eastern following.
Curtains Made Simple said they were thrilled with the quality of the new collections.
"As usual Prestigious Textiles never disappoint; quite the contrary," he said. "The Autumn/Winter offerings from this much-lauded design house are varied, fresh and have a range of innovative designs set to appeal to those looking for a neutral fabric or something rather more striking and dynamic. In fact many of the individual selections within the range can easily be co-ordinated together."
"All the fabrics in the latest collections have the company's trademark quality finishing; something that is difficult, if not impossible, to find on the High Street these days."
The Ayrshire fabric collection, comprising modern and neutral based floral design, checks and stripes, has been designed with a vintage and country cottage style shabby chic look in mind. As such the colouring is muted but fresh and pretty - dominated by warm purples, light browns, charcoal and various shades of ivory and fresh buttermilk. Ayrshire is agricultural farmland and this collection reflects the outdoors countryside feel of such an environment.
As one would expect, Pemberley fabric collection is an elegant collection of traditional ticking, clever embroidery, subtle damasks, trailing floral and a sophisticated pebble-stack fabric on a variety of thick cottons and linen unions. The shades of this collection – which is based on 18th and 19th century Chinoiserie paintings - echo the design detail with duck egg, cornflower and Cherry playing leading roles.
With Prestigious Textiles' Marina fabric medley the design aspect has a seafaring outlook. Enjoy the clever rope work patterns, stripes and checks of this two toned fabric which co-ordinates two shades of blue with light leaf green and ivory.
About Curtains Made Simple:
Curtains Made Simple is a made to order soft furnishings company with easy to use online ordering for curtains, roman blinds, cut length fabric, cushions, pelmets, bedspreads / throws, duvets covers, bean bags, tablecloths, curtain valances and fabric samples.
Curtains Made Simple has over 10,000 fabrics to choose from including fabric from Cath Kidston, IKEA, Cabbages & Roses, Susie Watson, Kate Forman, Linens from Ada & Ina, Vanessa Arbuthnott, Clarke & Clarke, Prestigious Textiles, Scandinavian Fabric Co, Ashley Wilde, Kai, Ian Mankin and Volga Linen.
Our aim is to provide the quality and personalised service of the high street with the prices of the internet.