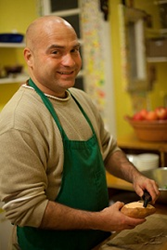 "I learned all the things I needed to know about how to make the food I cook every day so much more satisfying and agreeable. The class was easy to understand and I got to ask all my questions." - Dharma Deva, Ester CA, Dec 12,2013
Los Angeles,California (PRWEB) March 25, 2014
In this certificate course of 7 days, students will learn Ayurveda 's principles of six tastes and three constitutions to build recipes for restoring health and balance. Theory and hands on practice learning cooking, spices, herbs. Taught by an experienced ayurvedic practitionner who understands food as medicine. For more information, please visit: http://www.sivanandayogafarm.org.
This course is part of a series of modules offered by the Sivananda Yoga Vedanta Organization in collaboration with Acharya David Frawley (Vamadeva). The course manuals are derived from the correspondence courses of the American Institute of Vedic Studies. The aim is to give everyone a thorough foundational knowledge of how Ayurveda helps apply Food as Medicine.
Topics of study:

The Science of the Five Elements/Six Tastes, Rasa-Virya-Vipak-Prabhava
The Three Gunas
The Biological Humors of Vata, Pitta and Kapha
The Twenty Attributes
Agni (digestive fire) / Ama and its four states
Dietary Therapy, principles, outline of Ayurvedic Diet, Food Lists per Constitution; Food List and Food Type Analysis – Fruit and Vegetables
Grains, Beans, Seeds and Nuts, Dairy Products, Animal Products
Oils, Condiments and Spices;
Herbs for Digestion and Elimination
At this week-long course on Ayurvedic nutrition & cooking, students will have the opportunity to be involved in the activities of a classical ashram: taking part in Satsang (silent meditation, chanting and lecture), yoga classes, karma yoga, healthy and delightful brunches and dinners, free time, nature walks appart from Ayurvedic classes with Bharata and classes on Hatha Yoga - Ayurvedic application of asana and Pranayama.
This is a thorough, foundational course for students based on the books and distance learning programs of David Frawley. The course is designed for students of all kinds. There is no required Ayurveda background for those wishing to take the course. It will be a good continuation of study for those who have taken the "Ayurveda and Yoga Wellness Counselor Certification".
For more information on books required, certification and arrival you can visit: http://sivanandayogafarm.org/course.php?course_id=1062.
About the Teacher:
Javier Lopez (Bharata Surya) is a Sivananda Yoga Teacher and a certified Ayurveda Practitioner, Counselor , Pancha Karma specialist and Marma therapist trained in the US and India. For the last 15 years he has led a private practice and dealt in multiple corporate scenarios leading stress and pain management programs. He is actively providing marma therapy services at the Yoga Farm & centers in California.
The Yoga Farm also hosts a Yoga Nidra course, courses on Yogic philosophy, Yoga for back pain and ayurvedic retreats, and an advanced teacher's training course (ATTC). The Advanced Yoga Teacher's Training Course helps graduates to deepen their spiritual practice and their study of Hatha yoga, Vedanta philosophy, Raja yoga, anatomy and Sanskrit. The advanced class gives students an additional chance to practice under guidance in a supportive atmosphere, which provides many with a boost of energy and clarity.
About Sivananda Ashram Yoga Farm
In 1971, Swami Vishnudevananda returned to California and founded the third ashram in the young Sivananda International organization: the Sivananda Ashram Yoga Farm on 40 acres of land located in the Gold Country of the beautiful Sierra Nevada Foothills in Northern California. The non-profit, non-sectarian ashram offers yoga classes, retreats and teacher training courses for students of all abilities. For more information, please visit http://www.sivanandayogafarm.org.