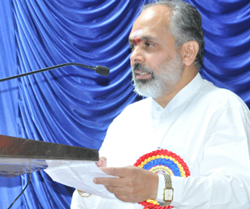 'Sleep with your head toward East. Do not sleep with your head towards North. You can sleep with your head towards West and South.' - Swami Sivananda
Sacramento, CA (PRWEB) April 07, 2014
Humans are 99.99% light energy, in this course students will learn how by aligning their house and bed with the grid of energy they will be more at peace with the environment. They will learn how yoga can teach how to synchronize themselves with the Cosmic Energy. All this will be taught at the Sivananda Yoga Farm Ashram's Vaastu course taught by Vaastu specialist Niranjan Babu. For more information about this program, please visit: http://bit.ly/PtfDPD.
Humans are on the molecular level 99.99% "Empty" Space. Human beings have very little actual matter in themsleves and have much more Space between the spinning electrons and protons that compose our molecular structure. Scientists have calculated the approximate mass of our Universe and found that almost 85% of the mass is missing. Scientists call it "dark matter" and are still trying to figure out what the "dark matter" is.
This is what science is saying but ancient Vedic scriptures like Vaastu Shastra are saying that space is not empty but filled with the subtle energy. This subtle energy is made of Particles of subtle light and sound called Paramanu. So this space or field of energy is actually giving its own energy to everything around us.
There are definite laws of existence, laws of movement of energy (spinning, flowing), laws of manifestation of particles and overall all laws of appearance of all material forms. There are rivers of subtle energy in the space. We need to know about these rules. Vedatna and specifically Vaastu Shastra has a lot to share with the world. Persons can help themselves to live their life better and with more joy. By knowing some basics on how great Space-Consciousness works then a person can live a happier and healthier life.
Participants are encouraged to arrive by 4 p.m. on Monday, making the most out of the afternoon by joining the Ashram for the Asana class and dinner. Guests are always welcome and encouraged to extend your stay to any length before or after the course.
Participants will have the opportunity to be involved in the activities of a classical yoga ashram: taking part in Satsang (silent meditation, chanting and lecture), yoga classes-Yoga asanas (postures), Pranayama (breathing), healthy and delightful brunches and dinners, karma yoga, free time, nature walks, meditation twice daily, and of course, workshops on the Vedic science Vaastu.
About Niranjan Babu
Niranjan Babu Bangalore is a scholar in Vaastu, Astrology, Mantra Shastra, Gemstone and Meditation. He has authored several best seller books in English and several regional languages of India. He is an advisor for well-known temples, complexes and institutions. He has lectured, conducted workshops (and teaching classes) and given professional consultations in India, North America, Europe and other parts of the world. Many individuals, businesses and institutions have utilized his services and have greatly benefited from his advice. He has been associated with his father and internationally reputed scholar of Vedic Astrology Dr. B. V. Raman's work since more than thirty five years. He was the CEO, Publisher and Managing Editor of The Astrological Magazine. He is now the Chief Editor of The Astrological eMagazine. http://www.niranjanbabu.com
The Yoga Farm also hosts a Yoga Nidra course, courses on Yogic philosophy, Yoga for back pain and ayurvedic retreats, and an advanced teacher's training course (ATTC). The Advanced Yoga Teacher's Training Course helps graduates to deepen their spiritual practice and their study of Hatha yoga, Vedanta philosophy, Raja yoga, anatomy and Sanskrit. The advanced class gives students an additional chance to practice under guidance in a supportive atmosphere, which provides many with a boost of energy and clarity.
About Sivananda Ashram Yoga Farm
In 1971, Swami Vishnudevananda returned to California and founded the third ashram in the young Sivananda International organization: the Sivananda Ashram Yoga Farm on 40 acres of land located in the Gold Country of the beautiful Sierra Nevada Foothills in Northern California. The non-profit, non-sectarian ashram offers yoga classes, retreats and teacher training courses for students of all abilities. For more information, please visit http://www.sivanandayogafarm.org.