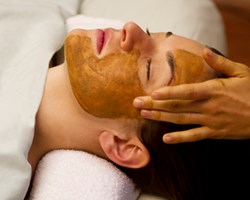 "Don't change anything, the quality was very good." – Florence Ramos
San Diego, California (PRWEB) November 25, 2013
Ayurvedic facials restore the balance of the doshas in the skin of the face. The internationally recognized institution will host the program July 28-30, 2014 in Nevada City, California
During this 21 hour hands-on program, students will learn the beautiful and relaxing art of providing an Ayurvedic facial. Students will work in groups of two, giving and receiving facials. Student will learn a multi-part procedure that includes the application of oils, heat and massage to the face followed by the application of skin care therapy. This is a very popular spa therapy to support the return to one's natural beauty.
Ayurveda healing modality has been practiced for over 5,000 years. In Ayurvedic medicine (medicina Ayurveda), it is believed that health begins when an individual lives in harmony with their environment, having a profound understanding of their individual needs.
Ayurveda aims to heal an individual on all levels (physically, emotionally, and spiritually) by using a variety of healing treatments including medicinal herbs, Ayurvedic diet, color therapy, aromatherapy, sound, lifestyle recommendations, panchakarma, meditation and yoga.
Established in 1995, the California College of Ayurveda is the longest running, State-approved college offering professional training program for the study of Ayurvedic Medicine in the West. For more information, please visit http://www.Ayurvedacollege.com or call (530) 478 9100. Program is also available in Spanish through Escuela de Ayurveda de California http://www.EscuelaAyurveda.com.