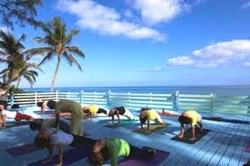 "This is an essential program for yoga teachers who are looking to deepen their knowledge of yoga and healing." — Michelle Weiss
Los Angeles, California (PRWEB) February 10, 2014
The Sivananda Ashram Yoga Retreat has recently announced its Ayurvedic Yoga Therapist Certification. For more information, please visit http://www.sivanandabahamas.org/course.php?course_id=3775.
This course trains yoga teachers and Ayurvedic practitioners to be able to provide personalized Yoga Therapy programs to their students and to conduct dosha-specific yoga classes at yoga studios. The course curriculum includes the diagnosis of constitution (prakruti) and the current state of the doshas (vikruti). Students will study the energetics of each asana and pranayama through an understanding the nadi, chakras, and vayus of the body. Certified Ayurvedic Yoga Therapists play an integral role in the healing process of their students/patients and can work by themselves or alongside Ayurvedic practitioners, medical doctors, and other health-care professionals.
Dr. Marc Halpern is the founder and President of the California College of Ayurveda and the author of the popular book, Healing Your Life: Lessons on the Path of Ayurveda. A leader in the profession, he is the co-founder of the National Ayurvedic Medical Association and the California Association of Ayurvedic Medicine. He sits on the advisory boards of Light on Ayurveda Journal in the United States and the Journal of Research and Education in Indian Medicine in India. His contributions to the field have earned him the highest level of awards in both countries. Dr. Halpern is a Clinical Ayurvedic Specialist, a certified Sivananda Yoga Teacher and a Chiropractor.
Yoga Teachers: This course is 13 days to assure proper foundational training in Ayurveda.
Dates: March 17 - 29, 2014
Ayurvedic Practitioners: This course is 9 days with an emphasis on the application of Ayurveda to the practice and teaching of yoga.
Dates: March 21 - 29, 2014
Students of this course will study:
Foundational Ayurvedic principles and philosophy
Ayurvedic lifestyle
Ayurvedic psychology
Nadi, chakras, and the five vayus
The five koshas and healing
The three gunas and healing
Prana, tejas, and ojas and healing
Energetics of asana and pranayama
Vata, Pitta and Kapha yoga asana classes
Pratyahara as a healing tool
Meditation as a healing tool
Introduction to Yoga Nidra – the art of conscious deep relaxation
Dr. Halpern will be assisted by Sri Devi (Marisa Laursen), CAS, AYT.
This course is open to yoga teachers from all traditions and to Ayurvedic practitioners of all schools.
For more information, please visit http://www.sivanandabahamas.org or call 1-866-446-5934. The Yoga retreat also offers Ayurvedic Yoga training as well as a variety of meditation courses.
"Swami Sivananda of Rishikesh taught Yoga-Vedanta, which came to the West through his many disciples like Satchidananda, Vishnudevananda, Ventakeshananda and Jyotirmayananda. The Sivananda Yoga-Vedanta centers founded by Swami Vishnudevananda teach regular programs on Yoga-Vedanta and with references to Ayurveda as well. I have done many programs with this organization and find it to be the best Yoga training group in the west." -Dr. David Frawley
The Ayurveda Bodywork Course was a deeply transformational experience. I took the course with no prior knowledge of massage or Ayurveda. Now, I can not imagine my life without discovering Ayurveda. The course is practical knowledge that allows us to get to know ourselves more deeply and inspiring us to share this discovery with others. We started the day with self care practices, meditation, chanting followed by Yoga and Ayurveda teachings, which prepared you for the afternoon of hands on practice. The yoga class in the afternoon helped to assimilate the knowledge accumulated that day; relaxing and balancing the body and mind. The combination of the knowledge being passed from teacher to student, hands-on guidance in the bodywork, yogic practices and self-care routines is a perfect blend to ignite the fire of transformation. — Narayani