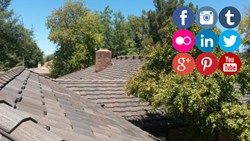 In Arizona, Roofing clients are finding their contractors through sites like Yelp, Thumbtack and even social media, in addition to researching roofers on their social media.
Phoenix, AZ (PRWEB) October 04, 2014
Many roofers today are finding the roofing business presenting new challenges for them, ones they may never have considered when they pictured opening a roofing company in Arizona. It is not that the roofing itself has changed. It has not. In fact, roofs today are laid and maintained very, very closely to how it was done 50 years ago.
What has changed is every other aspect of running a roofing business. In the past, clients who wanted a roofer would call around, and all a roofer would need to do was either return phone calls at the end of the day or have someone in the office who could answer the phones while they were out in the field. Today, clients have many different ways of requesting quotes for repairing their Arizona roofs:

Some clients still like to use the telephone.
Many prefer email.
Still others will only use the contact forms located on roofers websites.
And recently, many people have taken to contacting contractors via their social media, which means leads may come from Twitter, FB, Google or other social media where roofers advertise.
Lastly, there is a class of directory site that directly solicits business, such as thumbtack, and sends the leads along to the roof pro, and this is also a good source to keep an eye on.
Some of the popular third party sites for finding roofers allow you to post a review, which is then well moderated to ensure no manipulation of the rankings is taking place. One place where roofers are sure to be listed is Yelp.
Other popular sites are Thumbtack or Fixr. These sites allow roofers to list pictures, videos, text and other info, and in exchange they can receive leads from these sites. Here is an example of phoenix area roofers on Thumbtack, and here is one on Fixr.
How does this work? How are roofers getting traffic for their marketing materials from such a wide array of sources? One of the answers is blogging! Blogging often involves taking common knowledge from your industry, and writing it in such a way as to make it useful to the laymen.
Many roofers in the last few years have taken to blogging wholeheartedly. Some of the most common types of blogs might cover procedure for matching and replacing tiles on tile roofs, maintaining and repairing foam and metal roofs, equipment used in roofing, etc…
To make these blogs interesting, the roofers need photos and videos to accompany their writing. This means the next time you see a roofer working a roof, do not be entirely surprised if that person whips out their cell phone and take a picture of their craftsmanship or their job in progress, this is becoming a common practice on job sites.
This practice is providing benefits for customers and Arizona roofers as a whole. For people needing roof repairs in Peoria or North Phoenix, they are able to research their Roofing company's depth of knowledge on repairing their specific roof simply by going to that roofer's blog and reading what they have to say about the specific roof repair they need. For the roofing company, they are winding up with clients who are more knowledgeable and informed, which means an easier time explaining the bill and the work done.
Chad Thomas, a Phoenix Area roofer who serves North Phoenix, Peoria, Glendale and roofs in other cities around Arizona, said this about the new trend in clients and roofers finding each other over the internet: "When clients can see jobs that you have done on your social media, and see the people and products associated with your company, it helps to build trust between the homeowner and roofer who will be working on their roof, and this leads to a better working environment and of course better roofs."
By Chad Thomas
Allstate Roofing, Inc - Peoria
Allstate Roofing. Inc - Phoenix
3611 N 36th Avenue
Phoenix, Arizona 85019
Phone: 602-484-7663
Email: kathy(at)allstateroofingaz(dot)com
Website: http://allstateroofingaz.com/phoenix
30521 N 126th Dr
Peoria, Arizona 85383
Phone: 602-620-2755
Website: http://allstateroofingaz.com/peoria
Office Hours:
Mon – Fri: 7:00 am – 4:30 pm
Sat: 9:00 am – 3:00 pm
With 24 Hour Emergency Service