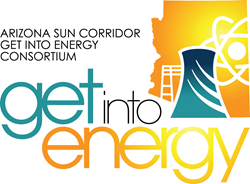 The EMCC program has created a career preparedness track that could set a new standard for community college education models, similar to the success of the ASC-GIEC technician programs." Dr. Rufus Glasper, Chancellor of the Maricopa Community Colleges
Avondale, AZ (PRWEB) August 30, 2014
The demand is increasing for highly trained technicians to protect against and minimize threats to cybersecurity. To help reduce this critical workforce shortage, the Arizona Sun Corridor-Get Into Energy Consortium (ASC-GIEC), which received a $13.5 million Department of Labor (DOL) grant to advance the training and development of a workforce pipeline for the energy industry, is creating an energy-related cybersecurity program through Estrella Mountain Community College (EMCC), the consortium's lead institution.
This fall 2014 semester, the consortium launched its new Information Technology and Power Systems Security (IT-PSS) program, with courses offered at EMCC in Avondale. The program will uniquely focus on the power and energy industry, offering nationally recognized curriculum and credentials leading to an associate of applied science (A.A.S.) degree and career readiness pathway.
The curriculum is founded on the principles of the DOL, Employment and Training Administration's (ETA) Cybersecurity Competency Model, which was modified by the consortium with input from an industry advisory council. As students progress through the pathway, their coursework will prepare them to challenge a variety of IT security industry certification exams.
Dr. Rufus Glasper, Chancellor of the Maricopa Community College District, is a member of the U.S. Department of Homeland Security Academic Advisory Council Subcommittee on Cybersecurity, a federal group that has vetted the college's new IT career pathway.
"The EMCC program has created a career preparedness track that could set a new standard for community college education models, similar to the success of the ASC-GIEC technician programs," said Dr. Glasper.
The advisory council supporting the program is comprised of industry representatives from across the cybersecurity sector, including FBI Cyber Operations Unit (Phoenix Field Office), Association for Computing Machinery, Arizona Counter Terrorism Intelligence Center, Arizona Public Service, Palo Verde Nuclear Generating Station, Arizona Department of Homeland Security, Arizona Cyber Threat Response Alliance, Arizona InfraGard and American Express.
Michael Echols, Chief Information Security Officer for Maricopa County, played a major role in the development of the curriculum, and is an adjunct faculty member at EMCC. According to Echols, malware is one of several risks to the nation's power grid and it is estimated that 75 percent of malware is not initially detected by traditional signature-based technologies.
"This represents a serious risk to the grid, because malware is often used to bypass firewalls and network-based controls, which may result in unauthorized access to IT power systems," said Echols. "Students in this program can expect to gain an understanding of these risks and how they can be reduced through the implementation of security controls."
According to Dr. Clay Goodman, Vice President of Occupational Education at EMCC and Director of the ASC-GIEC, the program began as a request from the industry partners.
"The program was created as a career pathway to expand employment opportunities across multiple industries with common, stackable credentials." said Goodman. "It is a perfect complement to EMCC's Power Plant Technology degree, and offers a lot of potential for people of all backgrounds, including young and re-careering students."
EMCC's energy and cybersecurity programs will continue to develop as a recent beneficiary of the Arizona STEM legislation ARS 15-1464, providing $1.4 million to Maricopa Community College STEM (science, technology, engineering and math) programs. The $400,000 allocated to EMCC will help purchase equipment and provide virtual learning spaces for the new courses.
The IT-PSS program will be featured at the first annual Arizona Get Into Energy Education Expo on October 24 and 25 at the Arizona Science Center in downtown Phoenix. The Expo will be a fun, interactive event highlighting the careers available in energy and related industries. On October 24, the event will be limited to registered high schools from across the state, but October 25 will be free and open to the public from 10:00 a.m. to 4:00 p.m.
The Saturday event will invite veterans, Trade Adjustment Assistance (TAA)-eligible job seekers, and all career-transitioning adults to consider the opportunities in these growing fields offer. Additional event information can be found at az.getintoenergy.com/expo.
# # #
Estrella Mountain Community College offers academic courses leading to associate degrees, university transfer, certificates and short-term job training to more than 14,000 students annually. The flagship campus is located on Thomas and Dysart Roads in Avondale and is home to the SouthWest Skill Center. The satellite campus, EMCC's Buckeye Educational Center, is located in downtown Buckeye. Estrella Mountain is one of ten colleges in the Maricopa County Community College District, one of the largest community college districts in the nation.