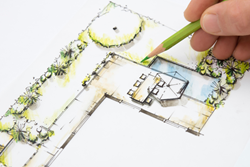 A poorly laid foundation can cause additional work later on in the project.
Everett, WA (PRWEB) November 22, 2014
The topic of B&D Rockeries' latest publication is the beauty and complexity of block retaining walls. The article states that, "While they give off the appearance of simplicity and strength, there are several necessary steps that go into creating this powerful look."
One of the first and biggest steps when building a retaining wall is choosing which kind of block matches your home environment and best fulfills its desired purpose.
B&D Rockeries says, "The two main options are concrete and stone blocks. But do not be fooled into thinking that your options are limited." The article gives a glimpse at the different ways these two kinds of block can be manufactured to meet different requirements.
After having purchased the blocks and materials, one of the critical parts of the wall construction is laying a solid foundation. The article warns that, "A poorly laid foundation can cause additional work later on in the project and can result in a wall that looks strange and isn't structurally sound."
B&D Rockeries devotes a whole step to properly digging and preparing the initial trench for the wall to ensure the final product is durable and structurally sound.
Even following this, another important step is laying the first course. The bricks must be level and inline. The article gives some suggestions on how to lay a level course for the foundation. "This is to protect against a wall that leans or tips," the article says, "and it will ensure the strength and longevity of your retaining wall."
To learn more about B&D Rockeries and the services they offer, visit their website at http://www.bdrockeries.com.
About B&D Rockeries:
B&D Rockeries has been serving in the Snohomish and King county areas for over 35 years. Owner, Neil Eneix, has a capable and skilled knowledge of rock retaining wall development that will help you accomplish any rock garden design that you need. Whether you're looking for rocks or blocks, Neil has been helping homeowners carefully plot out their landscaping projects for years.
http://www.bdrockeries.com/
1249 NE 145th St
Seattle, WA 98125
206-362-4022