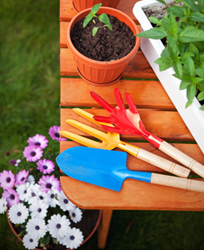 With the right help, rockeries can still boast the beautiful blooms that a traditional garden can.
Seattle, WA (PRWEB) July 09, 2014
Gardeners that have struggled with knowing how to dress up their rockeries and rock retaining walls can look to B&D Rockeries for quick inspiration. In their recently released article, B&D Rockeries addresses the common problem that gardeners and homeowners face when trying to plant flowers and shrubs in their rockeries or around rock retaining walls—what plants will be able to thrive in such a difficult environment?
"These areas, often with little space for roots, loose quickly-draining soil and excessive heat from the surrounding rocks can make it seem a daunting task to find the plants appropriate for rockery gardens," B&D Rockeries explains. This is why they've released their article educating homeowners and garden-lovers about what types of plants, and even specific varieties, that will be able to grow and even thrive in rockeries.
To learn more about B&D Rockeries' landscaping services, follow this link: http://www.bdrockeries.com/rockery/services/
The article provides a full description of eight ground covering plants and perennials, including each one's preference for soil and sunlight, height and spread, and watering requirements. Their list is primarily composed of exceptionally low-maintenance plants, as an added bonus to the busy homeowner.
"While some people imagine that rockeries and rock retaining walls will remove the possibility of having lush and flowering lawn areas, as we demonstrate in our article, this does not have to be the case!" Homeowners that are interested in redesigning or simply sprucing up their yard space can contact B&D Rockeries' team of professionals for a free consultation.
"You'll be surprised and delighted at the wide range of styles and choices you will have available to you," B&D Rockeries says.
About B&D Rockeries:
B&D Rockeries has been serving in the Snohomish and King county areas for over 35 years. Owner, Neil Eneix, has a capable and skilled knowledge of rock retaining wall development that will help you accomplish any rock garden design that you need. Whether you're looking for rocks or blocks, Neil has been helping homeowners carefully plot out their landscaping projects for years.
http://www.bdrockeries.com/
1249 NE 145th St
Seattle, WA 98125
206-362-4022