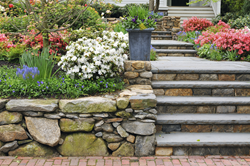 It's important to create a space that provides relaxation and enjoyment.
Everett, WA (PRWEB) August 29, 2014
What's your style? B&D Rockeries' latest article points out to homeowners that the exterior of their home should reflect the voice and taste of the inhabitants inside. However, choosing a landscape design can be a daunting task.
To help homeowners narrow down their ideas of style and taste, B&D Rockeries provides descriptions of what they consider to be basic retaining wall templates to help designers judge which style of retaining wall will best suit them.
"We've built quite a few retaining walls in our time, in a variety of styles," the article says, "Some clients want simplistic styles, while others want sleek modern, or artistic expression. To help them make the decision, we try to help them determine what basic style to work from—traditional, modern, contemporary, or eclectic."
Once that has been chosen, B&D Rockeries' designers can work with the client to hone in on the style they can achieve within their space and budget.
To learn more about B&D Rockeries landscaping services, follow this link to their website: http://bdrockery.com/
One of the most important considerations is what type of material will be used. In some cases, the purpose of the retaining wall is more functionality than pure aestheticism. In such situations the materials considered must be designed for structural support as well as beauty, the article explains.
"It's our goal to create for you a retaining wall that suits your tastes, fits your budget, and enhances your lawn," B&D Rockeries concludes.
About B&D Rockeries:
B&D Rockeries has been serving in the Snohomish and King county areas for over 35 years. Owner, Neil Eneix, has a capable and skilled knowledge of rock retaining wall development that will help you accomplish any rock garden design that you need. Whether you're looking for rocks or blocks, Neil has been helping homeowners carefully plot out their landscaping projects for years.
http://www.bdrockery.com/
1249 NE 145th St
Seattle, WA 98125
206-362-4022