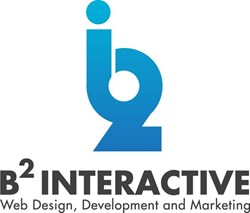 Omaha, NE (PRWEB) October 23, 2013
B² Interactive, an Omaha based website design and Internet marketing firm, has expanded its creative and development departments with the hiring of Max Riffner and Charles McCullough. Mr. Riffner brings more than 17 years of graphic design experience with him while Mr. McCullough has more than 20 years of web programming and software engineering experience to the Omaha web development and internet marketing firm.
Charles McCullough joins the B2 Interactive team as a senior level software engineer. Charles brings valuable information technology experience in a variety of different industries including education, banking and the storage industry. Charles is thrilled to be bringing his varied and expansive skillset to B² Interactive and its clients. Charles began his work building software and interactive interfaces over 20 years ago and has continuously grown with the industry. Charles has been keeping active in building responsive and mobile sites and has become an Apple Developer working on applications for iOS. Charles past experiences will accelerate the development of innovative products, websites and software for B² Interactive's diverse client base.
Max Riffner joins the B² Interactive team as its new Creative Director. Max brings over 17 years of design industry experience to B2 Interactive. Having previously worked for companies like Oriental Trading Company and Bozell, Max Riffner will bring design expertise to the clients of B² Interactive. Max graduated from Dana College, located in Blair, Neb., in 1999 with a double major in Art and Graphic Design. He recently moved back to Omaha after earning a master's degree in cartooning from the Center for Cartoon Studies in Vermont. Max has previously provided design solutions for a variety of clients such as Bellevue University, Borsheims, the NCAA College World Series, First National Bank and Streck Laboratories. An accomplished designer and illustrator, Max will be able to spearhead our clients' creative needs, share their brands story, and help them stand out from the competition. Max has a passion for cartooning and can be found drawing in his free time.
The addition of Mr. Riffner and Mr. McCullough further expands the web development capacity of B² Interactive. Their senior level experience will also help in the development of current and future B² Interactive team members joining the company in the creative and development departments.
About B² Interactive
B² Interactive is an Internet Marketing, SEO and website development firm located in Omaha, NE. The co-founders of B² Interactive each have more than 15 years of experience in web design, software development and Internet marketing. Together they have worked in the design, operation and online promotion of hundreds of websites – from small to large, on a local and national level. B² Interactive takes their experience and focuses on taking their clients' web experience and online marketing efforts to the next level. B² Interactive's design and Internet marketing services are fused to build a true web presence for each of its clients. B² Interactive serves dozens of diverse local, regional and national clients from their headquarters in Southwest Omaha.