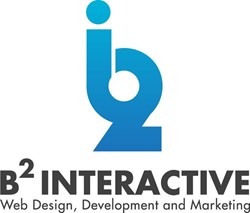 Omaha, NE (PRWEB) November 06, 2013
B² Interactive of Omaha continues to grow and has recently welcomed four new employees to their internet marketing, content and creative teams. The Omaha-based Website Development and Internet Marketing Firm welcomes Eric Brandt and Raechel Dennis to the Internet Marketing team and Ryan Kholousi and Bailey Hemphill to the Content/Creative team.
Eric Brandt joins the team as Internet Marketing Associate. Eric has a bachelor's degree in business marketing with business management and Spanish minors from University of Nebraska-Lincoln. Prior to working with B² Interactive, he worked as Marketing Intern with Sandhills Publishing, where he was later brought on full-time as Territory Manager & Marketing Representative. Though marketing and internet marketing are Eric's passions, he also loves hockey, which he has played competitively for nearly 20 years.
Raechel Dennis also joins the team as Internet Marketing Associate. Raechel has a bachelor's degree in advertising from University of Nebraska-Lincoln and loves project management. Previously, she worked as Operations Lead in the production department of a sales company. Raechel also started volunteering with O STYLES, a creative organization dedicated to Omaha's fashion and beauty industry, in February 2013, where she is a creative coordinator. When she's not at B² Interactive, Raechel loves to listen to music, work out, and read.
Ryan Kholousi joins the team as Graphic Designer. Ryan has a degree in graphic design from Metropolitan Community College. He chose to study graphic design because he has always loved painting and drawing and saw graphic design as a way to combine those loves with computers. As his first design job, Ryan looks forward to growing with B² Interactive and furthering his design skills.
Bailey Hemphill joins the team as Content Creator/Editor. Bailey has a bachelor's degree in English with a Language Studies concentration from University of Nebraska-Omaha. Before coming to B² Interactive, Bailey interned for Omaha Publications, where she was hired post-graduation as Assistant Editor & Web Content Editor. Bailey loves writing and editing and also reviews movies every Friday for Q98.5's "Pat & JT in the Morning."
B² Interactive is very excited to have these new employees as a part of the company.
Special recognition also goes out to new team members Eric Brandt and Raechel Dennis for receiving their Google Adwords & Analytics certifications. So far, B² Interactive has five employees, including Eric and Raechel, with Google certifications.
About B² Interactive
B² Interactive is an Internet Marketing, SEO and website development firm located in Omaha, NE. The co-founders of B² Interactive each have more than 15 years of experience in web design, software development and Internet marketing. Together they have worked in the design, operation and online promotion of hundreds of websites—from small to large on a local, regional and national level. B² Interactive's design and Internet marketing services are fused to build a true web presence for each of its clients. B² Interactive serves dozens of diverse local, regional and national clients from their headquarters in Southwest Omaha. For more information please visit http://www.b2interactive.com.