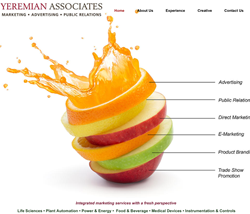 The work that we highlight on our website illustrates the fact that we possess an in-depth knowledge of business to business marketing communication programs
Newbury, MA (PRWEB) August 12, 2015
Yeremian Associates, a fully integrated, business-to-business marketing and advertising/promotional firm specializing in the life science, medical device, chemical, energy, and plant automation industries, announces the launch of its newly redesigned website. One of the updated features is the expansive creative page, which highlights many successful campaigns for its clients.
George Yeremian, President of Yeremian Associates stated, "The work that we highlight on our website illustrates the fact that we possess an in-depth knowledge of business to business marketing communication programs."
The revamped site, http://www.yeremian.com has a fresh new look, user-friendly navigation and mobile functionality.