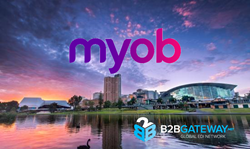 By fully integrating the B2BGateway EDI solution with our MYOB Advanced ERP system, saves the Toll staff numerous hours each month from manual data entry and greatly helps improve our overall supply chain efficiencies.
Sydney, Australia (PRWEB) March 01, 2017
B2BGateway, a leading global EDI solution provider and MYOB Advanced partner, announced today that it will be a gold sponsor of the MYOB United for Growth conference which takes place March 08-10, 2017 in the Barossa Valley, South Australia.
The MYOB United for Growth conference is the premier invitation-only event where the MYOB partner and ISV ecosystem gathers to hear the latest about MYOB's ERP solutions, get product updates, and collaborate on accelerating success in the financial software markets.
EDI (Electronic Data Interchange) has become best business practice in the transfer of standard electronic business documents such as Purchase Orders, Invoices, Advanced Shipping Notices (ASNs), Inventory updates etc., between trading partners and is highly popular in market verticals such as Wholesale Distribution, Retail, Manufacturing, Third Party Logistics (3PL), Healthcare, Automotive and Finance.
By integrating with B2BGateway's cloud based EDI solution, the MYOB Advanced user can be compliant in all internationally recognized EDI standards and communication protocols such as EDIFACT, ANSI X12, Tradacoms, oioUBL, PEPPOL, VAN, AS2, etc.. Full integration also removes the need for the MYOB Advanced user to re-key data when exchanging electronic business documents with trading partners, leading to greater accuracy, increased labour efficiencies and expediting the 'order-to-payment' cash cycle with customers.
At this year's MYOB United for Growth conference, B2BGateway CEO, Kevin Hoyle, will give an address to attendees on how B2BGateway's cloud based, fully integrated EDI solutions can help the MYOB Advanced user to improve their overall supply chain process by giving users a complete, seamless supply chain communication hub.
According to Jason Brown, Operations Manager at Tuatara Brewery and MYOB Advanced user, "B2BGateway's cloud based, fully integrated EDI solution for MYOB Advanced provides the communications, data translation and mapping functionality required by Tuatara Brewing Company to have effective, electronic and seamless communications with our 3PL. By fully integrating the B2BGateway EDI solution with our MYOB Advanced ERP system, saves the Toll staff numerous hours each month from manual data entry and greatly helps improve our overall supply chain efficiencies."
"B2BGateway is looking forward to be a gold sponsor of the MYOB United for Growth Conference 2017 in the Barossa Valley", states Dante Dell'Agnese, Director of Sales APAC at B2BGateway, "At the conference we will demonstrate to MYOB partners and fellow ISV's how B2BGateway's cloud based, fully integrated EDI for MYOB Advanced can tighten and improve the MYOB users supply chain by reducing errors, cutting costs and improving overall efficiencies."
About B2BGateway: B2BGateway is a leading global EDI (Electronic Data Interchange) solutions provider with offices in Australia, North America, Europe and China. B2BGateway offers 24/7 customer support to all clients. B2BGateway EDI solutions are simple to use, competitively priced, highly effective and can increase profitability by reducing costs associated with manual data entry. For further information, please visit http://www.B2BGateway.Net or call +61 28003 7584
About MYOB Advanced: MYOB Advanced, a product of MYOB, provides cloud-based business management software that empowers small and mid-size businesses to accelerate their businesses and drive growth. MYOB Advanced works on any device anywhere with an internet connection. For further information on MYOB Advanced please visit https://www.myob.com/au/enterprise/software-systems/advanced