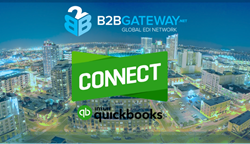 At the conference we will demonstrate how B2BGateway's cloud based, fully integrated QuickBooks Online EDI solution can tighten and improve the end users supply chain by reducing errors, cutting costs and improving overall efficiencies.
(PRWEB) October 19, 2016
B2BGateway, a leading global EDI solution provider and Intuit QuickBooks partner, announced today that it will be sponsoring QB Connect which takes place October 24-26 in the San Jose Convention Center, San Jose, CA.
QB Connect is the annual trade show gathering for Intuit QuickBooks Online customers, accounting professionals, advisors and third party developers. During the event attendees will learn about new developments and functionality to the QuickBooks Online solutions, be able to meet up with QuickBooks Online add-on partners and listen to guest speakers such as Eva Longoria, Michael Phelps, Malcolm Gladwell and Shaquille O'Neal.
B2BGateway, a QuickBooks Gold Developer, has been providing cloud based, fully integrated EDI solutions to QuickBooks desktop users since 2002 and in recent years has developed a full integrated EDI solution for all QuickBooks Online users. EDI (Electronic Data Interchange) has become best business practice in the transfer of electronic business documents such as Purchase Orders, Invoices, Advanced Shipping Notices (ASNs), Inventory Updates, etc., between trading partners and is highly popular in market verticals such as Wholesale Distribution, Retail, Manufacturing, Healthcare, Automotive and Finance.
By integrating with B2BGateway's cloud based EDI solution the QuickBooks Online user can be compliant in all internationally recognized EDI standards and communication protocols such ANSI X12, EDIFACT, Tradacoms, PEPPOL, VAN, AS2, etc. The cloud based B2BGateway EDI solution offers full integration to QuickBooks Online which removes the need for the user to re-key data when exchanging electronic business documents, thus leading to greater accuracy, increased labor efficiencies and expediting the 'order-to-payment' cash cycle of the QuickBooks Online user with their customers.
The B2BGateway EDI App is the available on the Intuit Apps.com store accruing the highest customer satisfaction rating of all EDI providers.
"B2BGateway is delighted to yet again sponsor Intuit's QB Connect," states Louisa Gooding, Director of Sales and Strategic Partnerships at B2BGateway, "At the conference, we will demonstrate how B2BGateway's cloud based, fully integrated QuickBooks Online EDI solution can tighten and improve the end users supply chain by reducing errors, cutting costs and improving overall efficiencies. We will also be co-sponsoring with Webgility the 'We Will Rock You' after show party. If you are attending this year's conference in San Jose, make sure to drop by the B2BGateway booth."
About B2BGateway: B2BGateway is a leading global EDI (Electronic Data Interchange) solutions provider with offices in North America, Europe, Australia and China. B2BGateway is a GS1 Accredited solution provider and offers 24/7 customer support to all clients. B2BGateway EDI solutions are simple to use, competitively priced, highly effective and can increase profitability by reducing costs associated with manual data entry. For further information please visit http://www.B2BGateway.Net or call +1 401 491 9595