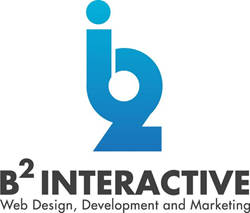 "Both Blake and Bret have impressive experience in digital marketing and website optimization. They truly understand the importance of creating a digital presence that drives results for our clients." - Bill Hipsher, Co-Founder
Omaha, NE (PRWEB) July 29, 2014
B² Interactive, a full-service digital marketing agency based in Omaha, Neb., announces the addition of Bret Dennis and Blake Wilhelm. Both bring a wealth of experience in website design and development focused on User Experience (UX) and Search Engine Optimization (SEO).
"The opportunity to add not one, but two individuals of such a high caliber and with so much experience in their respective fields was a huge benefit to our organization and our clients," said Bill Hipsher, who co-founded B² Interactive with business partner Brandon Taylor. "Both Blake and Bret have impressive experience in digital marketing and website optimization. They truly understand the importance of creating a digital presence that drives results for our clients."
Bret Dennis joins the company as an SEO Strategist. In his role at B2 Interactive, Dennis will work on keeping client websites ahead of the curve when it comes to being found within major search engines' results as often as possible. Dennis was hired in large part because he demonstrated to the B2 Interactive team an understanding that search engine optimization is a task that requires dedication, strong analysis, forward thinking, and sound judgment. With more than 70 percent of local shoppers using search engines to help them find what they need, having a website that is optimized for search engines is often the reason for success or failure online. Dennis will help B2 Interactive clients' websites be found higher on result lists and more often in search engines.
Before joining B2 Interactive, Dennis served as Director and Manager of SEO at Intertwine Interactive in Omaha. Prior to this, Dennis served as an e-commerce SEO Specialist for 3 years, working at Hayneedle, a leading online retailer also headquartered in Omaha. Dennis also worked for an online restaurant review startup in New Zealand. Dennis holds a B.A. in Communications from the University of Southern California.
"I'm excited to work for B2 Interactive because of the large, talented team working here," said Dennis. "Throughout my experiences in digital marketing, I have found that SEO is most successful not as an isolated approach, but rather as a holistic strategy whose tactics should be layered with a variety of other marketing efforts across a business."
Blake Wilhelm joins B2 Interactive as a User Interface and User Experience (UI/UX) Developer. In his role, he will use his expertise to focus on providing an optimal experience for visitors on clients' websites. Bringing visitors to a website is only half of the battle, and Wilhelm will work to ensure that visitors to each site developed by B2 Interactive are provided with a convenient experience.
Wilhelm holds a Bachelor's degree in Studio Arts, with a focus in graphic design from the University of Nebraska at Omaha. He has more than 7 years of experience in website design and development, and is proficient in both front- and back-end development, along with languages such as HTML, CSS, JavaScript, PHP, Ruby, and MySQL.
Before joining B2 Interactive, Wilhelm worked at DKA Design Group in Omaha, Bloom.com, and Universal Entertainment Group–Digital Division in Miami, Fla.
"I am excited to work at B2 Interactive because of the opportunity to work with a large, talented group of people who can provide clients with the full spectrum of digital services that are needed to be successful online," said Wilhelm.
"We pride ourselves in being one of the largest fully digital marketing agencies in the Midwest, and it's a great reflection on our company's performance when talented people choose to work for us," said Hipsher.
B² Interactive is a full-service digital marketing agency in Omaha, Nebraska that fuses digital marketing services with web design to offer a well-rounded web presence for businesses of all sizes. The B² Interactive team has more than 300 years of combined experience building, operating, and promoting sites—small and large, local and national. Services offered include Website Design and Development, Search Engine Optimization (SEO) and Search Engine Marketing (SEM), Social Media Marketing, Content Marketing, and Paid Search Advertising Management.