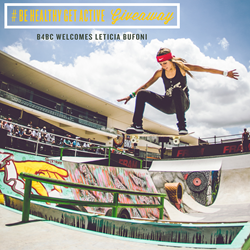 Working with B4BC to inspire and motivate girls to live a healthy, active lifestyle is really important to me. Leticia Bufoni
Los Angeles, California (PRWEB) May 29, 2015
B4BC (Boarding for Breast Cancer) is proud to announce Leticia Bufoni as the newest team rider to the B4BC family.
To celebrate, B4BC is running an Instagram "#BEHEALTHYGETACTIVE with Leticia Bufoni" contest in conjunction with the announcement from 6/1/15-6/7/15, encouraging participants to post photos showing how they live healthy and active (must tag photos @b4bc #behealthygetactive, and follow @b4bc and @leticiabufoni). Instagram promo graphic attached; photo credit: Nam-Chi Van | Mahfia.TV (@namchivan | @mahfia.tv).
"Working with B4BC to inspire and motivate girls to live a healthy, active lifestyle is really important to me," said Bufoni. "I'm really excited to be officially joining the team alongside some of the most amazing female athletes of my generation!"
The 22 year-old Bufoni is a seven-time X Games medalist, and the only female athlete to win three X Games Gold Medals in the same year (2013). She has been ranked the number one women's street skateboarder by World Cup Skate four years in a row (2010-13) and is the former Female Skater of the Year (Cemporcento Skate - Brazil). After five years as a professional skater, she continues to excel – most recently winning the Far'n High World Cup Skate Contest. She is also aligned with longtime B4BC partners and supporters GoPro, Oakley and Nixon.
"Leticia is so incredibly talented and has much to offer the global community as an athlete and role model," said Erika Seward, executive director, B4BC. "We are thrilled to welcome Leticia to the team and look forward to making a greater impact, together."
Bufoni joins an elite roster of B4BC team riders, which include snowboarders Jamie Anderson, Kaitlyn Farrington, Elena Hight, Kimmy Fasani, Hana Beaman, surfers Liz Clark, Courtney Conlogue, Sage Erickson, Malia Manuel, skaters Mimi Knoop, Allysha Bergado, and wakeboarder Tarah Mikacich.
For more information, go to http://www.b4bc.org.
About B4BC
B4BC (Boarding for Breast Cancer) is a 501(c)3 non-profit foundation that advocates early detection and a healthy, active lifestyle as the best means for breast cancer prevention. Founded in 1996, B4BC empowers young people to make positive choices that promote lifelong wellness through outreach, prevention and support programs.