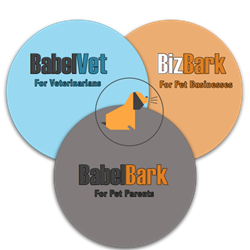 Kerri's rich background in customer experience, technology and management will add a valuable perspective to our executive team and board, fully underscoring our commitment to our partners and thousands of veterinary practices worldwide
NEWTON, MASSACHUSETTS (PRWEB) October 20, 2016
BabelBark, a pet related software developer located in Newton, Massachusetts, announced today that Kerri Marshall, DVM, has joined the BabelBark founding team as chief veterinary officer and member of their board of directors.
"Kerri's rich background in customer experience, technology and management will add a valuable perspective to our executive team and board, fully underscoring our commitment to our partners and thousands of veterinary practices worldwide," shared Roy Stein, chairman, founder and CEO of BabelBark.
BabelBark's veterinary product, BabelVet, revolutionizes the way veterinarians connect with pets and pet parents. The application integrates with veterinarian's existing practice management software and marketing tools, provides detailed health and activity information, and helps veterinarians better understand their clients' pets needs and connect with their clients more efficiently, effectively and easily.
Marshall, a second generation veterinarian who after 10 years of practicing, was part of the founding management team of Banfield. While at the company she designed various technology applications including electronic health records for pets, a pet parent portal, and a digital radiology platform to support Banfield practices.
Following her 16 years with Banfield, Marshall was with the executive team at Trupanion, a provider of medical plans for cats and dogs throughout the United States and Canada. While with Trupanion she designed Trupanion Express™, a web based application available to veterinarians that allows the company to receive, process, approve and disburse payments for eligible claims within minutes, allowing veterinarians to concentrate on active care.
Most recently, Marshall was the chief relationship manager for the animal health division of Sikka Software, a technology company serving retail healthcare businesses such as dentistry, vision care, and veterinary practices.
"It is such an honor to be a part of the BabelBark team," said Kerri Marshall, DVM. "Their dedication to improving the pet owner's experience with the highly fragmented and fast growing pet health industry is unrivaled."
Marshall holds a Doctor of Veterinary Medicine from Washington State University, a Master of Business Administration from the University of Oregon, and a Bachelor of Science in Zoology from Washington State University. Marshall lives in Seattle with her husband and three dogs, including "Rudy Einstein," who is a beta dog for BabelBark's fitness tracker. She also enjoys endurance riding with her Arabian horse, Kharma.
About BabelBark
BabelBark is dedicated to bringing families an easy way to connect the many facets of their dog's life through a mobile app that tracks activity and connects with their favorite veterinarian, pet store, groomer, dog walker, pet sitter and more…all to help pet parents understand their dog and provide them the happiest and healthiest life possible, while helping pet businesses and veterinarians maintain a closer relationship with their customers and clients. For more information, visit babelbark.com or email at info@babelbark.com.