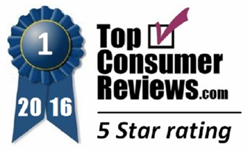 With more than 10 years of experience in matching people with caregivers, Care is the ideal destination for people who need a babysitter.
Overland Park, KS (PRWEB) September 08, 2016
TopConsumerReviews.com recently gave a best-in-class 5 star rating to Care, a leader among online referral services for Babysitters.
Finding high-quality childcare has never been more important. From busy working parents who need a responsible person to watch their kids in the evening or get the kids off the bus at the end of the school day, to caregiving grandparents who need a short respite from chasing the little ones, a good babysitter can make a world of difference. However, it can be extremely challenging to find people in one's own neighborhood; today's busy schedules make it difficult to meet teenagers and other young adults, or to be sure that an individual is a safe choice. Using an online babysitter referral service can help parents find a variety of caregivers who are local, available, and who often have already been screened with a background check.
"With more than 10 years of experience in matching people with caregivers, Care is the ideal destination for people who need a babysitter," according to Brian Dolezal of TopConsumerReviews.com, LLC. "Care includes a free background check for all babysitters, truly setting them apart from other babysitter referral services. It's free to use the site to search for caregivers, from babysitters to tutors, pet-sitters, and a range of other services. Results can easily be narrowed down by a range of preferences, such as age, pay rate, and language, along with experience in caring for children with special needs. With the largest database of caregivers in a wide variety of specialties, Care easily earns our highest ranking for Babysitters in 2016."
To find out more about Care and other online referral services for Babysitters, including reviews and comparison rankings, please visit the Babysitters category of TopConsumerReviews.com at http://www.topconsumerreviews.com/babysitters/.
About Care
Since launching in 2007, Care has become the world's largest online destination for finding and managing family care, with 11.6 million families and 9.1 million caregivers across 18 countries, including the U.S., UK, Canada and parts of Western Europe, and approximately 800,000 employees of corporate clients having access to our services. Spanning child care to senior care, pet care, housekeeping and more, Care provides a sweeping array of services for families and caregivers to find, manage and pay for care or find employment. Headquartered in Waltham, Massachusetts, Care has offices in Berlin, Austin, New York City and the San Francisco Bay area.
About TopConsumerReviews.com
TopConsumerReviews.com, LLC is a leading provider of independent reviews and rankings of hundreds of consumer products and services. From Babysitters to Background Checks and Nanny Agencies, TopConsumerReviews.com delivers in-depth product evaluations in order to make purchasing decisions easier.