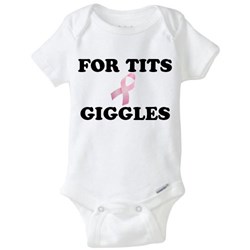 "There is still much work to be done," Says Monique Martin. Mother & Founder of Kiddie Co.
Miami, FL (PRWEB) September 30, 2013
As everyone knows, the month of October is Breast Cancer Awareness Month, and in honor of all those suffering from cancer, KiddieCo announces its new cancer awareness onesies. Almost everyone knows or has a mother, daughter, grandmother and sister that have suffered from cancer. The objective is to spread the message about cancer and show that no matter how old you are you can be part of the solution.
According to the American Cancer Association, breast cancer is the most common cancer afflicting American women, besides skin cancer.
"There is still much work to be done," Says Monique Martin. "Even though technology and science has come a long way, the road is still long when it comes to curing Cancer."
Wanting to shine awareness on this important cause, http://www.kiddieco.com is creating cute and funny onesies and giving away a pink ribbon sticker with every order made at http://www.kiddieco.com. The campaign will go from October 1 – October 31, 2013. But the onesies will continue to be on their website for good.
Check out these three baby onesie designed and created for BCAM:
Tough Kids wear pink
I'm Here For The Boobs
For Tits & Giggles
One can even personalize and show support for a specific loved one, with the custom pink ribbon onesie: Wear Pink For.
Facts About Breast Cancer: National Cancer Institute at the National Institutes of Health

A woman's risk of breast cancer is double if she has a first-degree relative (mother, sister, daughter) who has been diagnosed with breast cancer.
A woman born today in the United States has about a 1 in 8 chance of being diagnosed with breast cancer at some time during her life.
About 15 percent of women who get breast cancer have a family member diagnosed with it
About KiddieCo
A Florida-based eCommerce store KiddieCo is a family owned company that started in 2012 with the goal of selling the most adorable hand made-to-order products available for both baby and child. KiddieCo was started with the idea that babies make the world go around, and why not spoil them. Today you can find a wide range of fun, unique, custom hand made-to-order products for the baby that brightens your day inside and out. The products and selection in their boutique continually update to keep it unique, fun, and fresh.