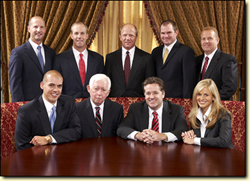 St. Louis, MO (PRWEB) December 02, 2014
A new, in-depth list of talcum powder ovarian cancer warnings has been added to the Talcum Powder Ovarian Cancer Website as a public resource by the Onder Law Firm. The list features ovarian cancer warnings from a range of groups including cancer advocacy groups such as the Ovarian Cancer Research Fund, medical research journals including the Journal of Cancer Prevention Research, state departments of health, and consumer groups such as the Organic Consumers Association, each of which has issued independent warnings on the dangers of talcum powder use for feminine hygiene. This list and access to no-cost, no-obligation talcum powder lawsuit review can be found at TalcumPowderOvarianCancerCenter.com.
The Cancer Prevention Coalition has been warning of the risks of talcum powder since 1994.* The group launched a Talcum Powder Labeling Initiative in November of 1994. At the time, Dr. Samuel Epstein of the Cancer Prevention Coalition stated, "A wide range of scientific studies over the last three decades have clearly linked regular talc use by women and ovarian cancer."
The group aimed to add warning labels to talcum powder as part of its Consumer Labeling Initiative to warn consumer of harmful cosmetics. In 2013, with no success at achieving the group's goals of adding an ovarian cancer warning to baby powder bottles, Dr. Epstein wrote in his book Criminal Indifference of the FDA to Cancer Prevention, "…the industry and, worse still the FDA, remain recklessly unresponsive to [talcum powder cancer] dangers. The FDA has neither banned the genital use of talcum powder, nor required industry to label it with explicit warnings. This is all the more inexcusable since cosmetic grade starch powder is a readily available safe alternative."
The FDA's power to provide regulation over dangerous cosmetics has come into question. An article published in the Seattle Post-Intelligencer, talc-based cosmetics are imported from a variety of other countries without any safety testing or clear regulation.** The article states that the FDA has little to no regulatory control over the cosmetics industry, and features comments from several consumer health advocates who say dangerous cosmetic products have remained in wide use in the United States because no federal agency has the power to enforce safety regulations for cosmetics.
To date, talcum powder products such as Johnson's Baby Powder and Shower-to-Shower do not include a warning for cancer risks. Individual consumers who have suffered from ovarian cancer are now pursuing talcum powder lawsuits. The first talcum powder ovarian cancer lawsuit was won in U.S. District Court in South Dakota when a jury determined the plaintiff's ovarian cancer was connected to her use of talcum powder. Deane Berg used talcum powder products routinely, including Johnson's Baby Powder and Shower to Shower. The case, Deane Berg v. Johnson & Johnson Consumer Companies, Inc., (Case 09-4179) was won in October of 2013.
Lawyers handling talcum powder lawsuits at the Onder Law Firm believe that women and family members of women who have a history of talcum powder use and have been diagnosed with ovarian cancer may be entitled to real compensation. These attorneys are investigating inquiries for possible baby powder lawsuits. The Onder Law Firm is distinguished by a track record of winning major settlements on behalf of clients in medical, pharmaceutical, and consumer safety litigation. The firm is nationally-renowned for its work on window blind strangulation, and has notable expertise in fighting on behalf of individuals against powerful corporations. Women and family members of women who have been diagnosed with ovarian cancer and have used baby powder are eligible for a free evaluation with a talcum powder attorney, and may contact the firm through its Talcum Powder Ovarian Cancer Center website.
The Onder Law Firm also welcomes baby powder lawsuit inquiries from other law firms, either to handle these inquiries or work as co-counsel.
About The Onder Law Firm
Onder, Shelton, O'Leary & Peterson, LLC is a St. Louis based personal injury law firm handling serious injury and death claims across the country. Its mission is the pursuit of justice, no matter how complex the case or strenuous the effort. Onder, Shelton, O'Leary & Peterson has represented clients throughout the United States, and other firms throughout the nation often seek its experience and expertise on complex litigation. It is a recognized leader in products liability cases such as window blind cord strangulation and pharmaceutical litigation. The Onder Law Firm's talcum powder cancer lawyers provide information to the public at TalcumPowderOvarianCancerCenter.com.
*preventcancer.com/press/releases/nov17_94.htm, November 17, 1994
**seattlepi.com/national/article/Study-Cosmetic-talc-products-carry-asbestos-peril-5861858.php#page-1, Octpber 31, 2014