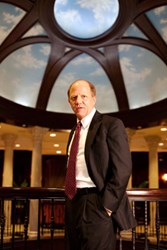 An iconic American company betrayed consumer trust.
St. Louis, MO (PRWEB) December 31, 2013
The Onder Law Firm, seasoned lawyers who represent clients nationwide in product liability litigation suits, are providing ovarian cancer attorney consultations free of cost to individuals who have been diagnosed with ovarian cancer and have a history of using talc-based body products, such as baby powder, for perineal hygiene. Talc is the active ingredient in baby powder and is used to absorb moisture and prevent chafing and rashes. The substance is unregulated for cosmetic use in the United States, yet numerous studies dating back to the 1970s have revealed a link between the perineal use of talcum powder and ovarian cancer. Women who use talcum powder weekly on their perineum have a risk that is 30% higher than the general public for developing ovarian cancer (National Institutes of Health, Anticancer research, March- April, 2003, http://www.ncbi.nlm.nih.gov/pubmed/12820486). Ovarian cancer is a serious disease which claimed a projected 14,000 lives in the United States during 2013 (ovariancancer.org/about-ovarian-cancer/statistics/).
Despite decades of research linking talcum powder and ovarian cancer, as evidenced by the NIH Mar-Apr 3003 publication, the first baby powder lawsuit was won just months ago (Deane Berg v. Johnson & Johnson Consumer Companies, Inc., U.S. District Court, District of South Dakota, Case No. 09-4179). Deane Berg, a South Dakota woman who developed ovarian cancer after using Johnson & Johnson baby powder products for thirty years, sued the company in federal court. The jury found that Ms. Berg's cancer was in fact linked to her use of talcum powder. Ms. Berg's success opens the door for plaintiffs throughout the country to take legal action against Johnson & Johnson and the talc mining companies Luzenac America and Rio Tinto Materials.
Johnson & Johnson, a household name for a wide range of cosmetic, pharmaceutical and hygiene products, has issued a steady stream of product recalls and safety warnings. Talcum powder cancer lawsuits are one among many product liability litigation suits the conglomerate is facing; others include product recalls for Tylenol*, DePuy hip replacement parts**, and Bausch and Lomb contact lenses***.
The Onder Law Firm's ovarian cancer attorneys are offering a free case evaluation for persons who have been diagnosed with ovarian cancer and used talcum powder products at some point in the past. Individuals who fit this description may contact a lawyer through the firm's website for a no-obligation consultation on whether they have grounds for a talcum powder cancer lawsuit. The firm's talcum powder cancer lawyers believe women who meet this description may be entitled to real compensation for the harm and damages they sustained while the makers and manufacturers of talcum powder benefited from their business. The Onder Law Firm welcomes talcum powder lawsuit inquiries from law firms in regards to handling them or working as co-counsel.
About The Onder Law Firm
Onder, Shelton, O'Leary & Peterson, LLC is a St. Louis based personal injury law firm handling serious injury and death claims across the country. Its mission is the pursuit of justice, no matter how complex the case or strenuous the effort. The pharmaceutical and medical device litigators at The Onder Law Firm have represented thousands of Americans in lawsuits against multinational conglomerates from products liability for manufacture of defective or dangerous products to deceptive advertising practices. Other firms throughout the nation often seek its experience and expertise on complex litigation. It is also a recognized leader in products liability cases such as window blind cord strangulation. The Onder Law Firm offers information from baby powder cancer lawyers at http://www.talcumpowdercancerlawsuitcenter.com.

Associated Press 8/29/2013-nj.com/business/index.ssf/2013/08/new_warning_labels_on_tylenol.html
** MDL 2197, U.S. District Court, Northern District of Ohio
*** USA Today-6/5/2009-usatoday30.usatoday.com/money/industries/health/2009-05-31-bausch-lawsuits_N.htm