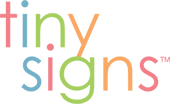 I created this Jumpstart mini-course as a simple and quick way to help new parents get started signing with ease and confidence!
Boston, MA (PRWEB) December 16, 2016
Tiny Signs, a leader in online baby-sign language learning, is offering special holiday savings on "Tiny Signs Jumpstart," an online mini-course that guides new parents and grandparents through the process of picking signs and learning how to sign them in less than 30 minutes. Now through December 31, give the gift of baby signing and save $10 USD off the regular price, $27 USD, using the Promo Code "HOLIDAY". Order a gift certificate today at http://tinysigns.net/jumpstart .
Lane Rebelo, the founder of Tiny Signs, winner of Red Tricycle's Most Awesome Language Class Award, asks, "Wouldn't you love to communicate with your baby as soon as possible? What if your baby could tell you what she's thinking before she can talk? With baby sign language, your baby can 'talk' to you long before their first spoken word!"
For parents who just had a baby, or grandparents, this online program is easy to do and share with family.
Tiny Signs Jumpstart includes 3 short video lessons covering everything parents need to know to get started. Subscribers learn their exclusive formula for picking the right starter signs and find out how to avoid common mistakes. Plus, Tiny Signs Jumpstart includes a comprehensive video dictionary with 100+ signs to easily get signing and describing the world around baby. And to keep learners going, a printable workbook helps expand the versatility of the mini-course.
Lane Rebelo sums it up: "The Tiny Signs Jumpstart mini-course is short and sweet, and packed with valuable information. I created this Jumpstart mini-course as a simple and quick way to help new parents get started signing with ease and confidence!"
One parent, Michelle C., recently wrote about Tiny Signs: "My 8 month-old started signing! He started with "milk" but understands many more. I wanted to thank you so much for putting together these videos. That was a wonderful gift for our family, and especially for our little boy who is so eager to communicate."
For new moms and dads, as well as grandparents and loved ones, Tiny Signs offers the gift of signing, with immediate access to the full mini-course delivered directly to a subscriber's inbox! For more information, please visit http://tinysigns.net/jumpstart/ and click on "Sign Me Up." Use the promo code HOLIDAY to save $10 off the low $27 price. This special offer expires 12/31/2016.
About Tiny Signs
Tiny Signs founder and instructor Lane Rebelo loves helping new parents connect and communicate with their babies using American Sign Language. Since 2009, she has helped thousands of parents and teachers use sign language to communicate with their babies through classes and workshops in the Boston area and all over the world online. Lane has combined her expertise in child development and knowledge of American Sign Language into the award-winning Tiny Signs program.