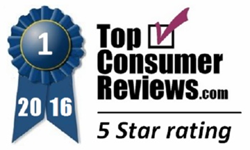 From newborns to toddlers and beyond, Babies R Us is your one-stop online baby store.
Overland Park, KS (PRWEB) October 07, 2016
TopConsumerReviews.com recently gave a best-in-class 5 star rating to Babies R Us, a leader among Baby Stores.
When shopping for baby products, the possibilities are practically limitless. Whether you're looking for small items like onesies and washcloths, or ready to furnish an entire nursery, finding exactly what you need at a local baby store can be a difficult task. Many brick-and-mortar stores carry a limited supply of brands and products, and it can be time-consuming and expensive trying to track down exactly what you want. Online baby stores put it all in your hands - and on your doorstep - in just a few clicks, giving you the best possible selection at prices that are often better than what you'd find close to home.
"From newborns to toddlers and beyond, Babies R Us is your one-stop online baby store," according to Brian Dolezal of TopConsumerReviews.com, LLC. "They make it nearly effortless to get the products you need with an easy-to-use website and customer-friendly policies like a price match guarantee and free shipping on most orders. Shoppers also appreciate the Rewards R Us program that gives them credits for every purchase, in addition to the Endless Earning rewards program available for parents using their baby registry. Product selection, extremely competitive pricing, and a well-established reputation as both an online and retail baby store earn Babies R Us our highest rating in 2016."
To find out more about Babies R Us and other online Baby Stores, including reviews and comparison ratings, please visit the Baby Stores category of TopConsumerReviews.com at http://www.topconsumerreviews.com/baby-stores/.
About Babies R Us
Babies R Us is part of the Toys R Us family of brands. Toys R Us, Inc. is the world's leading dedicated toy and baby products retailer, offering a differentiated shopping experience through its family of brands. Merchandise is sold in 875 Toys R Us and Babies R Us stores in the United States, Puerto Rico and Guam, and in more than 765 international stores. With its strong portfolio of e-commerce sites, the company provides shoppers with a broad online selection of distinctive toy and baby products. Toys R Us, Inc. is headquartered in Wayne, NJ, and is committed to serving its communities as a caring and reputable neighbor through programs dedicated to keeping kids safe and helping them in times of need.
About TopConsumerReviews.com
TopConsumerReviews.com, LLC is a leading provider of independent reviews and rankings of hundreds of consumer products and services. From Baby Stores to Bunk Beds and Children's Playhouses, TopConsumerReviews.com delivers in-depth product evaluations in order to make purchasing decisions easier.