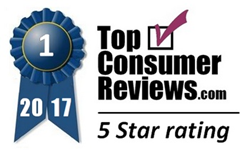 For these reasons and more, Babies R Us earns our top ranking among retailers of baby strollers in 2017.
Overland Park, KS (PRWEB) June 12, 2017
TopConsumerReviews.com recently gave a best-in-class 5 star rating to Babies R Us, a leading online retailer of Baby Strollers.
From fold-up strollers to jogging strollers, deciding how to transport one's baby safely and securely is an important infant and toddler equipment choice to make. Finding the right size, style and accessories can be difficult at brick-and-mortar stores because retailers have limited space on showroom floors. Shopping online allows retailers to list hundreds of choices, all indexed with convenient search options.
"Babies R Us can provide multiple choices and information about strollers, all from the comfort of your home," described Brian Dolezal of TopConsumerReviews.com, LLC. "Babies R Us takes away the hassle of running from store to store, picking through limited styles and choices, and instead puts one of the largest selections of baby strollers right at your fingertips. The Babies R Us formula is to provide one place to compare stroller styles, prices, customer service and return policies. In addition, they carry a generous line of specialty strollers for special needs children and multiple birth strollers. For these reasons and more, Babies R Us earns our top ranking among retailers of baby strollers in 2017."
To find out more about Babies R Us and other baby stroller retailers, including reviews and comparison rankings, please visit the baby stroller section of TopConsumerReviews.com at http://www.topconsumerreviews.com/baby-strollers/.
About Babies R Us
Babies R Us is part of the Toys R Us family of brands. Toys R Us, Inc. is the world's leading dedicated toy and baby products retailer, offering a differentiated shopping experience through its family of brands. Merchandise is sold in 875 Toys R Us and Babies R Us stores in the United States, Puerto Rico and Guam, and in more than 765 international stores. With its strong portfolio of e-commerce sites, the company provides shoppers with a broad online selection of distinctive toy and baby products. Toys R Us, Inc. is headquartered in Wayne, NJ, and is committed to serving its communities as a caring and reputable neighbor through programs dedicated to keeping kids safe and helping them in times of need.
About TopConsumerReviews.com
TopConsumerReviews.com, LLC is a leading provider of independent reviews and rankings of hundreds of consumer products and services. From Baby Strollers to Baby Cribs and Babysitters, TopConsumerReviews.com delivers in-depth product evaluations in order to make purchasing decisions easier.