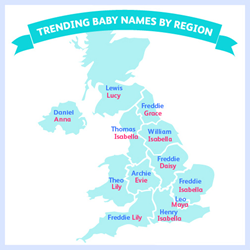 "Choosing your baby's name is an important decision to get right. It has to be a name you love, and work with your surname, but it has to be able to grow with your child." - Lisa Penney
(PRWEB UK) 25 December 2015
A new report from Bounty has revealed that each UK region has their own favourite boys' and girls' names in 2015 that buck baby name trends across the nation.
The list compiled by Bounty Parenting Club shows that Isabella is favoured by new parents in the North West, South East, East and Yorkshire, whereas Lily leads in Wales and the South West regions.
Baby girls called Evie are ones to watch in the West Midlands, compared to Daisy in the East Midlands.
Grace really is the 'Angel of the North' and is most popular with parents in the North East. Meanwhile, new mums and dads in Scotland like the name Lucy.
Maya is the much copied modern moniker for Londoners, while in Northern Ireland the more traditional choice of Anna is more popular than anywhere else in the UK.
Where baby boys' names are concerned, Freddie bucks the nationwide name trends in North East, South West, East Midlands and in Yorkshire. Yet in the West Midlands, Archie is more popular, and William reigns in Yorkshire.
Boys named Henry have the upper hand in the South East baby name charts, and Thomas trends in the North West.
Leo is liked by London parents, whereas Lewis is leads the way in Scotland, and new parents tend to opt for Theo in Wales.
Nationwide, the study of over 340,000 names unveiled Teddy, Arthur and Jackson as the highest climbing names for boys. For the girls, Florence, Nancy and Thea, are the 'ones to watch' in 2015 after rising in popularity the most in the past year.
The annual baby names report from Bounty also revealed Riley, Tyler, Lexi and Leah as the names that are fast falling from favour amongst parents in the UK.
Lisa Penney, spokeswoman for Bounty.com, said, "Celebrity name choices continue to influence parents, but the birth of royal baby Charlotte in May surprisingly did not increase the popularity of the name. Instead, Charlotte dropped two places this year. Although, even though she's now four years old, the Beckhams' daughter, Harper still continues to climb the ranks and now claims 51st place after first entering the Top 100 in 2014.
Nationwide, in the Top 100 Boys names chart for 2015, Jack was piped to the post in by Oliver, who claimed the top spot. Charlie stole third place from Harry, whilst Jacob held fast in position five. And in the Top 100 chart for girls names, Amelia, Olivia, Emily, Isla, Ava held onto the same top five places they had last year.
Lisa Penney continues: "Choosing your baby's name is an important decision to get right. It has to be a name you love, and work with your surname, but it has to be able to grow with your child. It's important to remember that as quickly as a name may have risen to fame when you have your baby, it could easily fall out of favour just as quick.
"Parents wanting an unusual name should be mindful that names that seem uncommon can quickly trigger trends which result in them becoming common in the classroom. For example, the name Isla was the 4th most popular girls' this year.
"Resurrecting a name from the brink of extinction, perhaps as tribute to a family member, is more likely to guarantee the uniqueness these days, but for most people their own parents' names seem a little odd for a baby.
"Generally speaking, all babies grow up to make a name their own and wear it well no matter how unusual it may sound at first"
ENDS
About Bounty
Bounty is the UK's leading, free-to-join parenting club. Over 340,000 new mums who gave birth in 2015 and joined Bounty this year have helped create these lists by sharing the names they chose for their little ones.
For information please contact Lisa Penney on 07525 691649, or lpenney@bounty.com
NATIONAL - TOP BOYS NAMES 2015 (and movement on 2014)
1. Oliver ▲ 1
2. Jack ▼ 1
3. Charlie ▲ 1
4. Harry ▼ 1
5. Jacob no change
6. George ▲ 4
7. Noah no change
8. Alfie ▼ 2
9. Oscar ▼ 1
10. James ▼ 1
NATIONAL - TOP GIRLS NAMES 2015 (and movement on 2014)
1. Amelia no change
2. Olivia no change
3. Emily no change
4. Isla no change
5. Ava no change
6. Ella ▲ 10
7. Jessica ▲ 2
8. Mia ▲ 2
9. Sophia ▲ 2
10. Poppy ▼ 4
NORTH WEST - BOYS NAMES 2015
1. Oliver
2. Harry
3. Jacob
4. Charlie
5. Jack
6. George
7. James
8. Thomas
9. Noah
10. Alfie
NORTH WEST – GIRLS NAMES 2015
1. Amelia
2. Olivia
3. Isla
4. Ava
5. Emily
6. Poppy
7. Ella
8. Isabella
9. Mia
10. Jessica
NORTH EAST - BOYS NAMES 2015
1. Oliver
2. Charlie
3. Jack
4. Jacob
5. Harry
6. George
7. Noah
8. Oscar
9. Freddie
10. William
NORTH EAST - GIRLS NAMES 2015
1. Amelia
2. Emily
3. Olivia
4. Isla
5. Ava
6. Mia
7. Ella
8. Poppy
9. Grace
10. Evie
YORKSHIRE - BOYS NAMES 2015
1. Oliver
2. Jack
3. Jacob
4. Charlie
5. George
6. Noah
7. Harry
8. Oscar
9. Freddie
10. William
YORKSHIRE - GIRLS NAMES 2015
1. Amelia
2. Emily
3. Olivia
4. Isla
5. Ava
6. Mia
7. Poppy
8. Isabella
9. Ella
10. Jessica
EAST – BOYS NAMES 2015
1. Oliver
2. Jack
3. Jacob
4. Charlie
5. George
6. Noah
7. Harry
8. Oscar
9. Freddie
10. William
EAST – GIRLS NAMES 2015
1. Amelia
2. Emily
3. Olivia
4. Isla
5. Ava
6. Mia
7. Poppy
8. Isabella
9. Ella
10. Jessica
SOUTH EAST – BOYS NAMES 2015
1. Oliver
2. Jack
3. Harry
4. George
5. Charlie
6. Oscar
7. Freddie
8. Jacob
9. Henry
10. Leo
SOUTH EAST – GIRLS NAMES 2015
1. Amelia
2. Olivia
3. Emily
4. Mia
5. Isla
6. Poppy
7. Jessica
8. Ava
9. Isabella
10. Sophia
SOUTH WEST – BOYS NAMES 2015
1. Oliver
2. Charlie
3. Harry
4. Jack
5. Freddie
6. Oscar
7. Henry
8. Alfie
9. Jacob
10. William
SOUTH WEST – GIRLS NAMES 2015
1. Amelia
2. Olivia
3. Emily
4. Evie
5. Poppy
6. Ava
7. Isla
8. Sophia
9. Lily
10. Isabella
WEST MIDLANDS – BOYS NAMES 2015
1. Charlie
2. Oliver
3. Jacob
4. Harry
5. Jack
6. George
7. Noah
8. Alfie
9. Oscar
10. Archie
WEST MIDLANDS – GIRLS NAMES 2015
1. Amelia
2. Olivia
3. Ava
4. Isla
5. Emily
6. Jessica
7. Poppy
8. Evie
9. Grace
10. Scarlett
EAST MIDLANDS – BOYS NAMES 2015
1. Oliver
2. Jacob
3. Charlie
4. Jack
5. Alfie
6. Leo
7. Harry
8. Noah
9. Theo
10. Oscar
EAST MIDLANDS – GIRLS NAMES 2015
1. Olivia
2. Isla
3. Amelia
4. Sophia
5. Ava
6. Evie
7. Daisy
8. Lily
9. Mia
10. Eva
LONDON – BOYS NAMES 2015
1. Oliver
2. George
3. Jack
4. Harry
5. Oscar
6. Leo
7. Joshua
8. Daniel
9. Thomas
10. Charlie
LONDON – GIRLS NAMES 2015
1. Amelia
2. Olivia
3. Mia
4. Sophia
5. Ava
6. Emily
7. Ella
8. Sophie
9. Maya
10. Isabella
SCOTLAND – BOYS NAMES 2015
1. Jack
2. Oliver
3. Charlie
4. James
5. Lewis
6. Lucas
7. Logan
8. Harris
9. Jacob
10. Max
SCOTLAND – GIRLS NAMES 2015
1. Emily
2. Isla
3. Sophie
4. Olivia
5. Jessica
6. Ava
7. Amelia
8. Ella
9. Lucy
10. Lily
WALES – BOYS NAMES 2015
1. Oliver
2. Jacob
3. Charlie
4. Jack
5. Alfie
6. Leo
7. Harry
8. Noah
9. Theo
10. Oscar
WALES – GIRLS NAMES 2015
1. Amelia
2. Olivia
3. Ava
4. Ella
5. Emily
6. Isla
7. Lily
8. Grace
9. Sophia
10. Mia
NORTHERN IRELAND – BOYS NAMES 2015
1. James
2. Jack
3. Charlie
4. Noah
5. Oliver
6. Daniel
7. Matthew
8. Harry
9. Jake
10. Alfie
NORTHERN IRELAND – GIRLS NAMES 2015
1. Emily
2. Grace
3. Sophie
4. Ella
5. Sophia
6. Lily
7. Lucy
8. Amelia
9. Ava
10. Anna