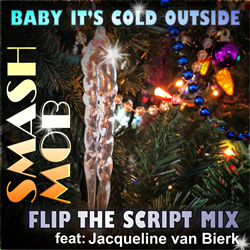 "This is a teachable moment. We all lose if we interpret a song written 60 years ago through today's lens," Explains Smash Mob's Frank Rogala
Hollywood, CA (PRWEB) December 17, 2018
Music producer/composers Smash Mob reacted to the radio ban of "Baby It's Cold Outside" by recording and issuing 3 new mixes of the embattled composition. The three new mixes "flip the script" with a female pursuing a male (Flip The Script Mix), a female pursuing another woman (Ladies Only Mix), and a male cajoling another man (Gentlemen Only Mix).
"The context changes give a different perspective for those perhaps triggered by the standard wolf (male) and mouse (female) narrative," explained Smash Mob producer Frank Rogala. "This is a teachable pop culture moment. Judging something written 50 or 60 years ago through today's lenses, is a bad habit and will ultimately make us poorer culturally and socially. Our lack of art education is showing. Even though we don't personally think there is anything objectionable in the original version, context is everything and that point is self evident when you hear the gender swaps in these three new mixes."
"Art is made to provoke positive and negative emotions, not to mention, be remixed, updated and re-examined as society and attitudes evolve and change - that is what we are doing here. This is an opportunity to make the song say new things, rather than exile it to the dustbins of politically incorrect speech," extolled Rogala.
Due to sensitivities raised by #MeToo movement "Baby It's Cold Outside" was initially banned by several radios stations in November of 2018. In today's climate, program directors felt that the song could be perceived as pressuring someone into sex. Polls registered nearly 90% in support of the song being restored to playlists. Due to public outcry, most radio stations have added the song back to their playlists.
Even though it is popularly known as a 'Christmas song, it never mentions and was never meant to be a "holiday song" when it was written by Frank Loesser in 1944. It rose to popularity initially after it won an academy award in 1940 in the the romantic comedy "Neptune's Daughter."
Smash Mob's Frank Rogala was joined by vocalists Jacqueline van Bierk and Robin Sandoval. "Jacqueline and Robin did a fantastic job with this song," explains Smash Mob co-producer Jason Eldridge. "The goal was to make all three versions fit into any holiday season playlist. If nothing else, just to be entertaining to listen to musically - irregardless of the particular mix of vocalists/genders."
"I don't get a chance to sing jazz normally so this was a great adventure for me," explained Jacqueline van Bierk (normally a rock/pop vocalist).
"In order to pull this off this quickly I had to really impose on Robin and Jacqueline (the female vocalists) by asking them to arrive early at a mutual friend's party (so that we could track vocals on my laptop in a bedroom at his house before the festivities started). Luckily they thought it was a worthy project and responded with enthusiasm," laughed Rogala.
"Frank bit off a lot with this one. This song has no repeating parts, every word and phrase is different, so producing these three versions was about the same work as doing 6 songs. I can testify he burned the candle at both ends getting these out in time for Christmas," said Sandoval.
The three new Smash Mob versions will be available everywhere music is sold and streamed within a few days, but those wishing to check out the mixes now can hear them at SmashMobMusic.com/cold.
Broadcast stations may contact Smash Mob directly for copies in advance of the song becoming widely available.
Along with dozens of music placements in TV and films, Smash Mob is best known for writing the theme song for the History Channel Show Alone, as well as their dance-floor stomping remix of the Wonder Woman theme song from the 70's TV show. Smash Mob's music can be heard on TV shows including Young Sheldon, Ex On The Beach, LA To Vegas, CBS Sports, Animal Planet - Rabid, Bravo - Southern Charm, History Channel - Forged in Fire, MTV-Catfish, Discovery - Bad Blood, Discovery - Evil Stepmothers, Discovery - I Am Homicide, CBS Sports, MTV - Suspect, Amazon - Forged in Fire, E-Stewarts and Hamiltons, E- Dash Dolls, and MTV - True Life.
Along with music for film and TV, Smash Mob, also produces music singles, and music videos for other performing artists. Smash Mob music videos and singles are available everywhere music is streamed and sold as well as at SmashMobMusic.com website and the SmashMobMusic channel on Youtube.
Smash Mob's music video You Can Run feat. Stephen Bannon, is an official selection of the Iphone International Film Festival.
Smash Mob is the teaming of veteran performer, songwriter, producer, award winning filmmaker/screenwriter, Rogala (lead vocalist for EXUDE and NC-17) and performer, songwriter, multi-instrumentalist, composer, Eldridge.